I am not just a Jacksonville St Augustine fabrication & welding shop, I am also a St Augustine, Jacksonville mobile fabrication welding service and can bring my tools to you.
However shop welding is much less expensive than loading up all my tools and bringing them to you. So if possible bring your work to me and I will fabricate your solution.
---
My welders can even come aboard your boat to repair your fly bridge, T Tops, Hand rails Stainless or Aluminum, Ladders or gangways etc.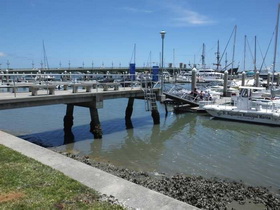 Want to see work I did on a 145' yacht, while it was tied to a dock?
---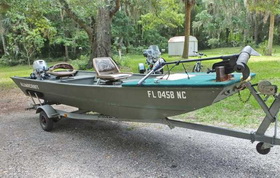 I fix, weld, patch, & repair aluminum John Boats. Click here or on the picture.
---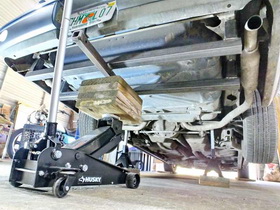 A fun project was a custom designed tow hitch for a Lincoln Town Car. Click the link or the picture to see how the fabrication progressed. There is an abundance of pictures and explanations.
I Also custom fabricate and weld tow hitches for vehicles that don't have them mass produced. And for the front of trucks or tractors that want a custom tow hitch on the front.
---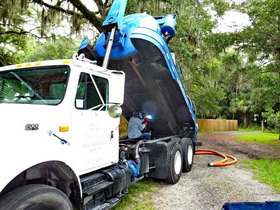 I do Fleet Truck maintenance and this Vacuum Pumper Tank Dump Truck was leaking. So I climbed under and welded a fabricated patch over the hole.
Click here or on the picture to see the details of this equipment repair and more pictures of it.
---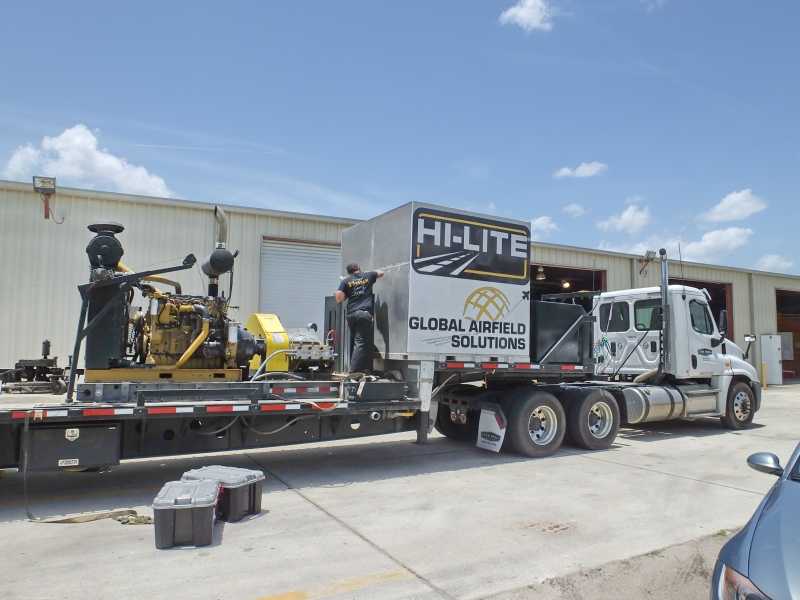 I do Aluminum portable mobile welding on tractor trailers. To see the story and pictures of the welding I did on this rig, click on the picture or click here.
---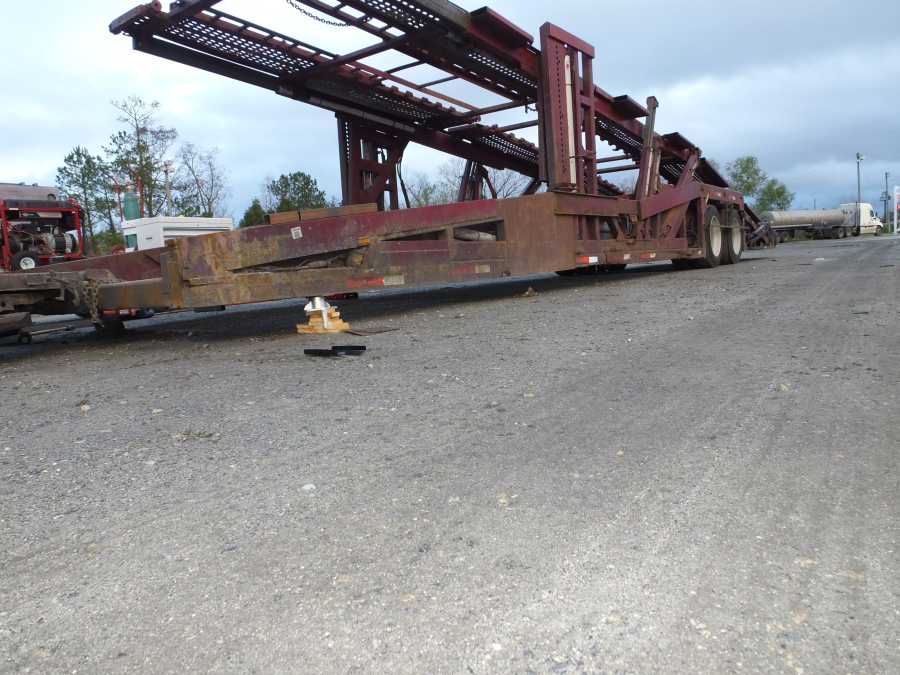 We rebuild, refurbish & repair car carriers & car haulers. Any brand. To see pictures and explanations click on a page link below
.
01 Before pictures of the damage.
02 Rebuilding car hauler frame, drivers side.
03 Rebuilding car hauler frame, passenger side.
04 Rebuilding car hauler hydraulic stabilizer frame mount flange.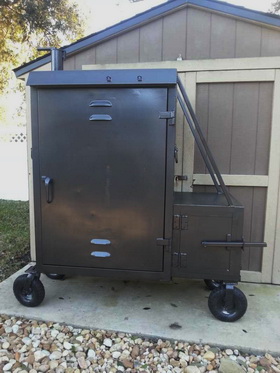 This is a Offset Meat Smoker / custom barbeque smoker cooker. If you would like to see its metal fabrication and weld build stages, click on the picture or
click this link to

read about it and see 180 pictures
of its complete build.
---
Before and After. Originally this boat trailer had a single aluminum fender that was so weak and wobbly the customer was afraid to climb on it or use it as a step to get into the boat with.
We replaced it with a new two wheel aluminum fender, double axles, and added surge brakes. To see the build out page on this job click on either picture or click on this link.
Now the aluminum fender welded on is amazingly strong and acts as a safe step up onto the boat with. Now he has great trailer brakes(which he didn't have before), and the trailer stays straight at highways speeds and no longer sways side to side.
---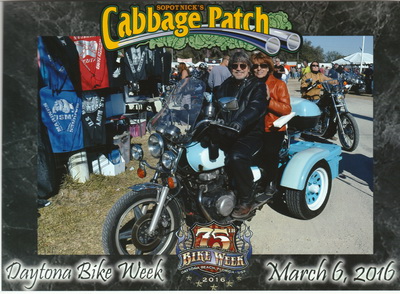 Stainless Steel Welding.
This motorcycle received custom crash bars made out of stainless steel. These stainless steel bars were also turned into extra foot pegs and soft cushy leg rests.
To see the custom built stainless steel crash bars being built, click on this link or on the picture.
---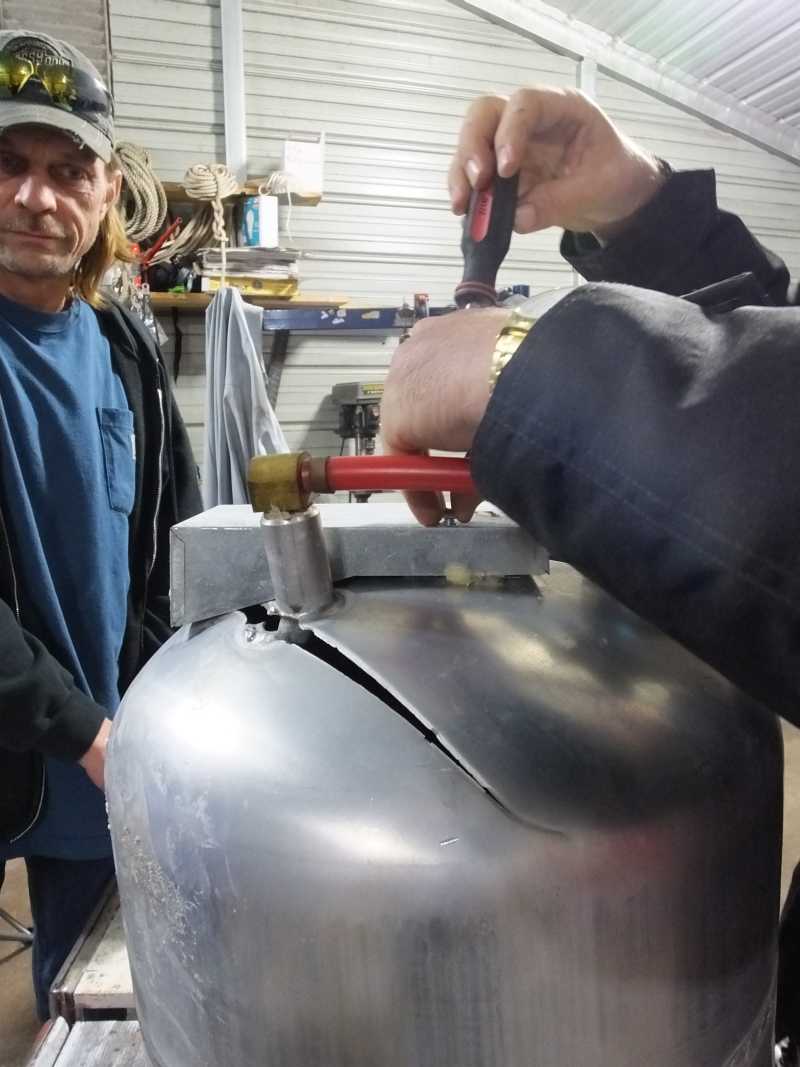 The impossible aluminum weld, hot water heater pressure tank repair. Five other welding shops would not touch it. So it comes to me. Why do I always get stuck with the hard stuff? Click on this link to see the pictures and repair process explanations.
---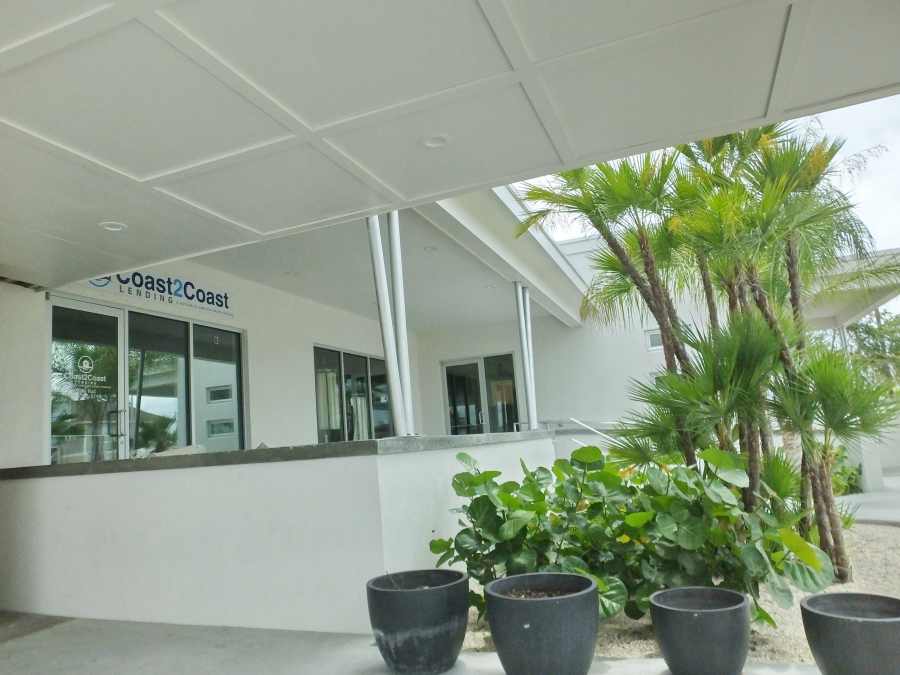 We fabricated and welded those double silver custom steel columns that are holding up the roof. We fabricated four pairs of them.
There is much more involved in building them than it would look like from these appearances
.
To see the fabrication and welding pictures, and a full explanation of the various build stages, click on the picture or click here
.
---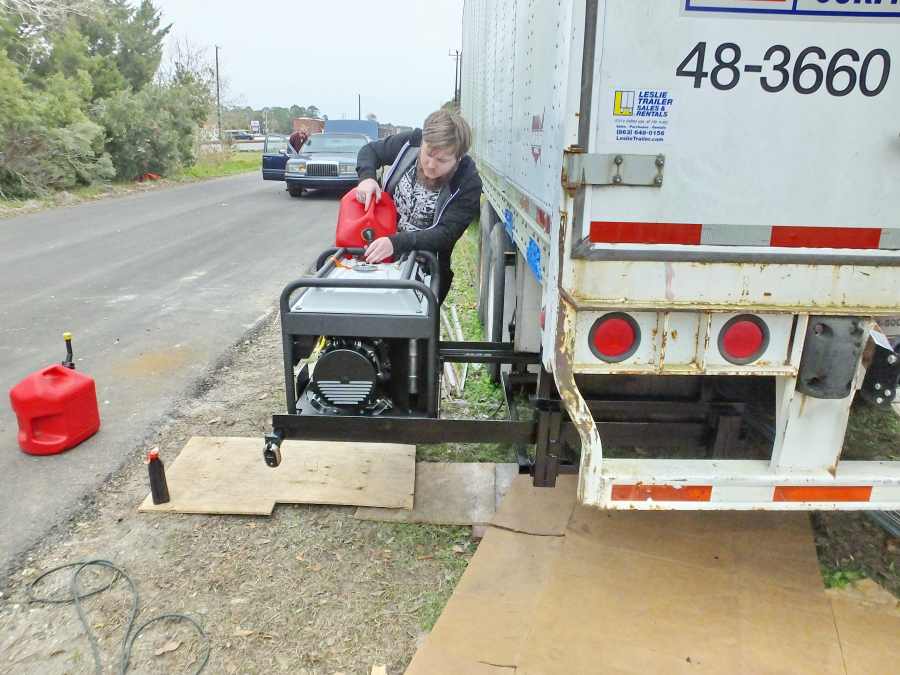 We built a Mobile Escape Room out of this 45" semi trailer for a customer. Its the largest Mobile Escape Room in the country. It has air conditioning in the front and AC also in the back.
It has multiple rooms inside, one way mirrors, hidden passages, hidden rooms, hidden locks, fully wired with 120 volt AC electricity, separate entry and exit steps in the front and rear that fold up for highway travel.
The build and fabrication aspect I'm going to show you, is about the generator cage. This tractor trailer mobile Escape Room needed a way to carry and easily access a external generator.
The (250 lb) generator sits in a rack built into a drawer, that easily rolls in and out of its noise limiting, anti-theft security cage.
With my background in engineering and design, it was easy for me to design this solution, then fabricate the components and weld it up.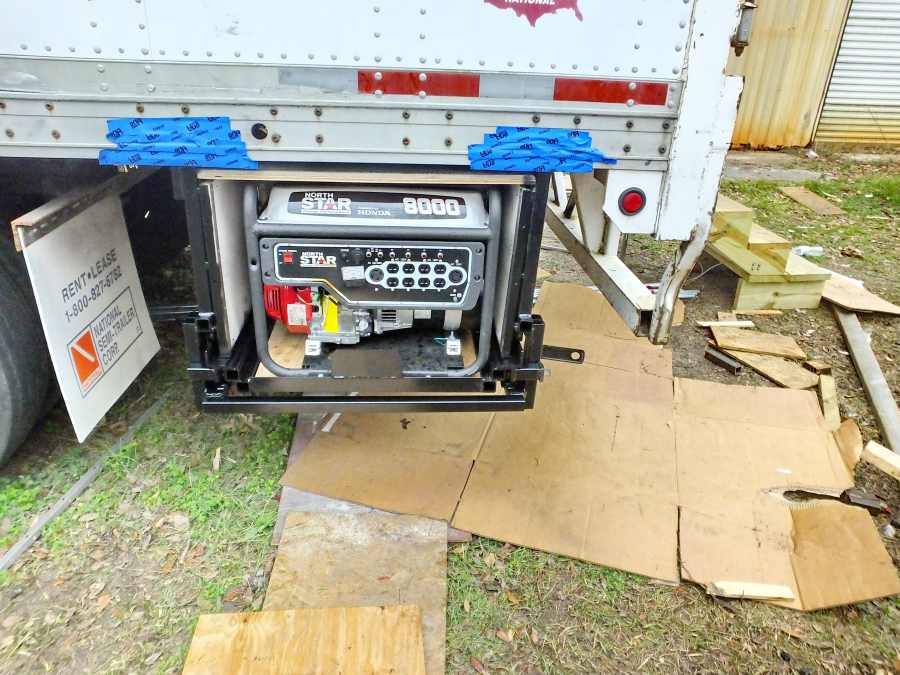 To see more pictures of the fabrication process and explanations of the build, click on a picture or click here
.
---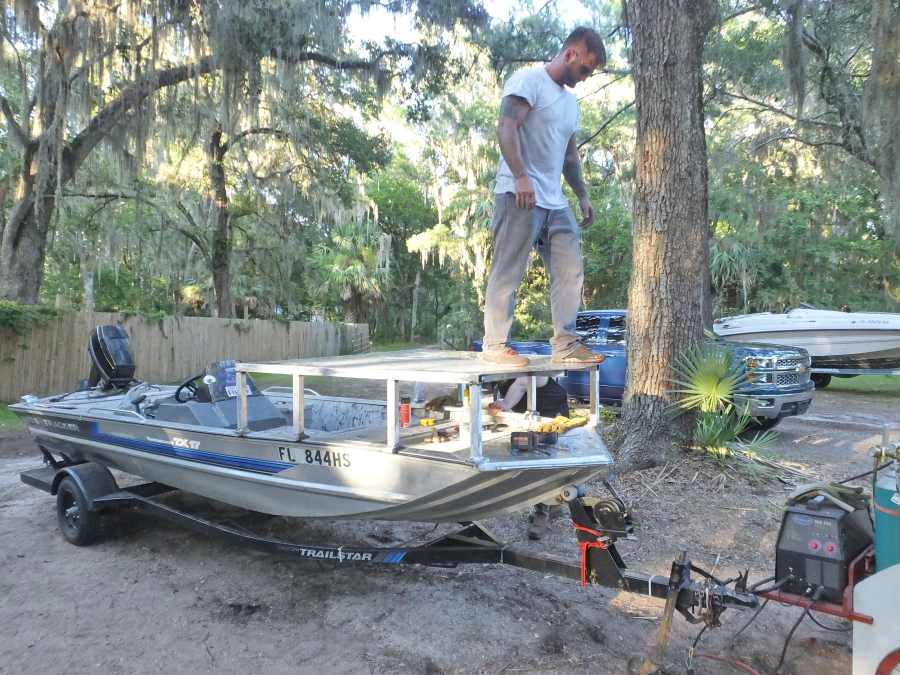 We design, fabricate, weld and build aluminum gigging, bow fishing platforms for boats. Click on the picture or click here to read all about it and see all the build pictures.
---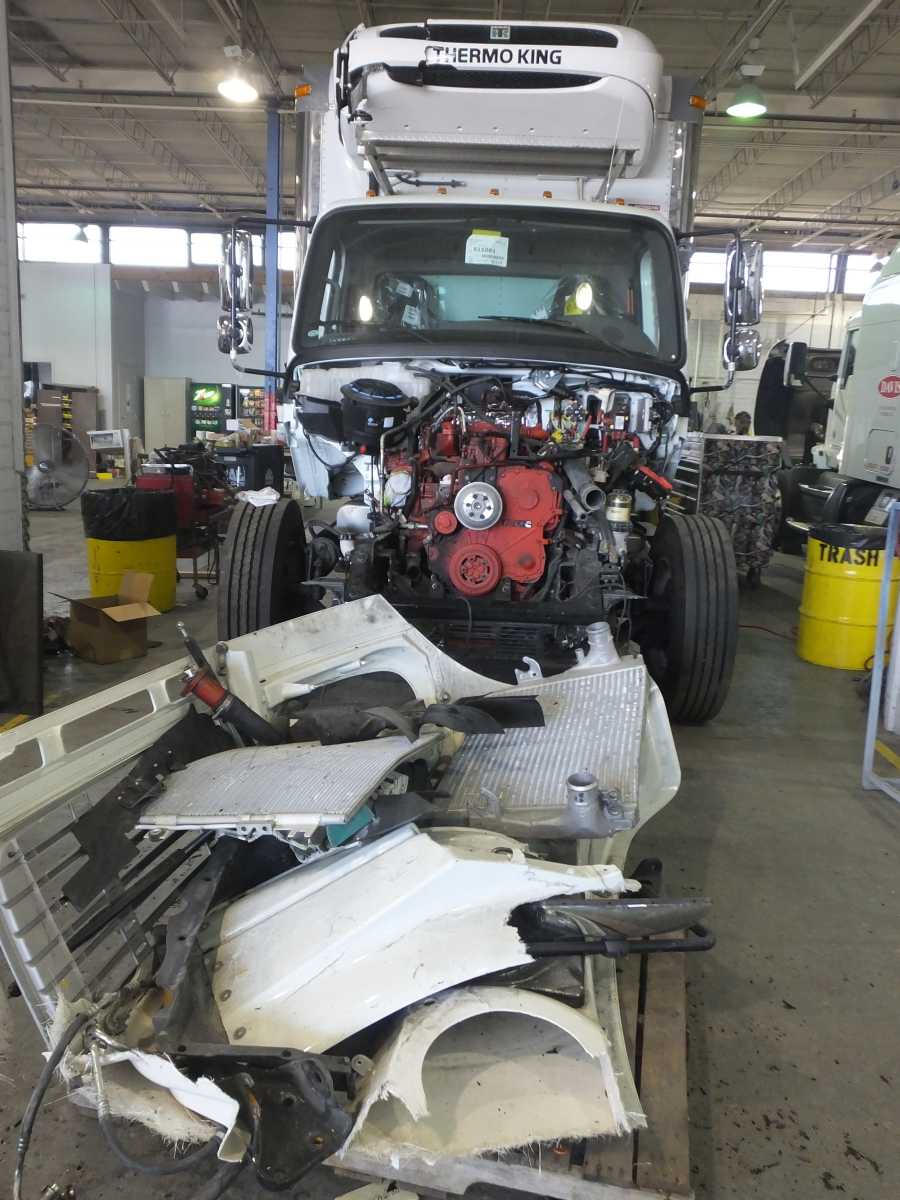 This is a mobile cast iron welding job on a diesel engine block. The truck was in a accident and as well as extensive body damage, the cast iron diesel engine was also damaged.
If I could not fix it for them, their next alternative was to buy a brand new engine and swap engines out. To see the page that shows the engine block repair process, click on the picture or click on this link.
---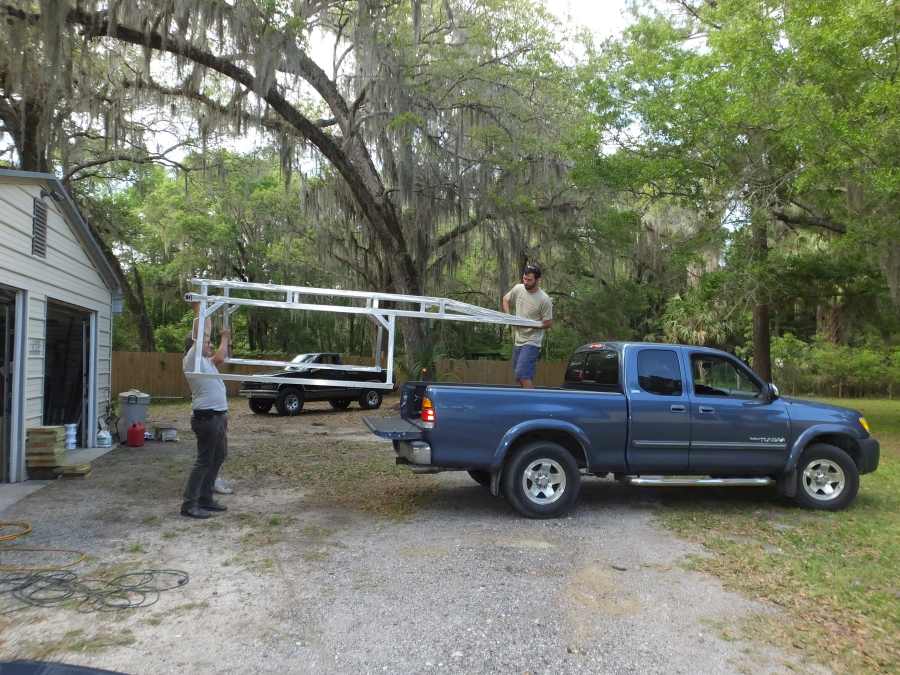 I designed and fabricated this aluminum lumber/ladder rack in St Augustine near Jacksonville, built to carry 2,500 lbs of lumber up top. To see more pictures of it, click on the picture or click on this link
.
---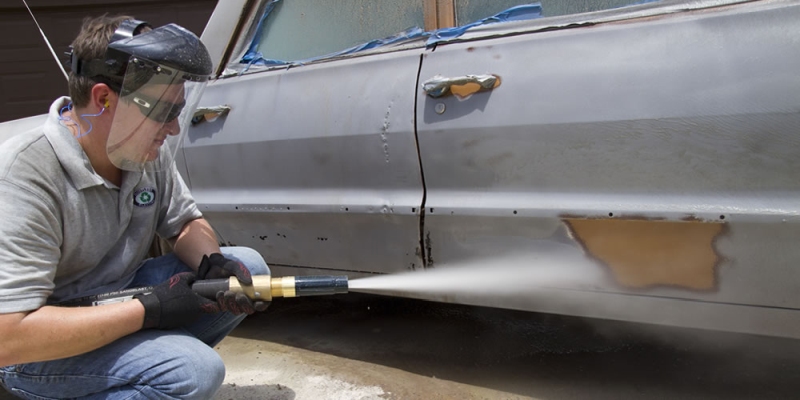 We do paint stripping and rust removal with sandblasting, wet blasting, vapor blasting, bead blasting. We have many processes we can choose from for the best results at the least cost.
We strip heavy equipment, vehicle frames, furniture and antiques, paint off of wood and houses, pools for refinishing, expensive tools and industrial machines, metal fences and gates, trailers and trucks of all types, cars and motorcycles being restored, remove paint from brick and concrete, strip paint from engine blocks and fiberglass boats.
We remove barnacles from boats and aluminum oxides from motorcycle engines to make them shine again.
Abrasive blasting has many forms and is the most effective technique for removing rust and paint off of nearly any object. After we strip it, we can repaint it for you also. We even have special equipment and techniques for painting inside tube or box frames on autos of that style.
We can do it at our shop, or come to you with our mobile blasting service. We can do it, or rent our equipment to you and let you do it yourself to save some money.
Click on the picture, or click on this link to learn more about abrasive blasting and how it can help you remove paint and rust from whatever you want to make look new again.