This log cabin has had all the protective stain degrade with age and it has lost its protection along with the beautiful looks.
Now its blotchy looking with inconsistent coloring and it looks nasty. Plus now the rain water is causing it to rot and beginning to destroy it. So this log cabin needs rejuvenating and sandblasting is the answer.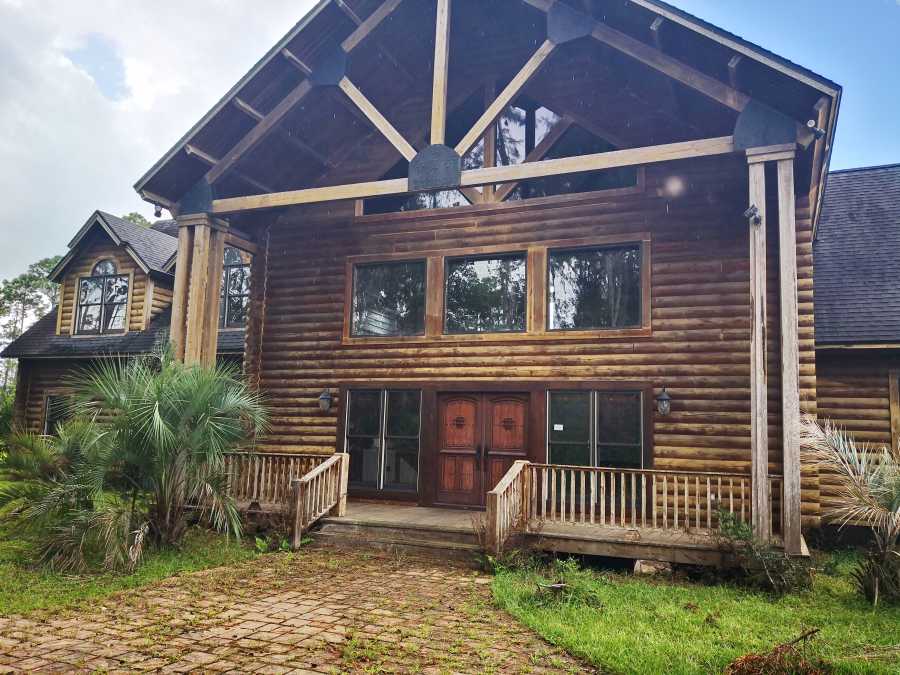 Putting new stain and new sealer on top of the old is a waste of time, as the old continues to lift off it will take the new off with it. It definitely needs new stain and new sealer, but to do a lasting job that can last another 20-30 years, first the old failing coats must be removed. It is imperative that the new sealer and new stain goes onto bare wood and not atop of old sealer and stain which are failing and falling off.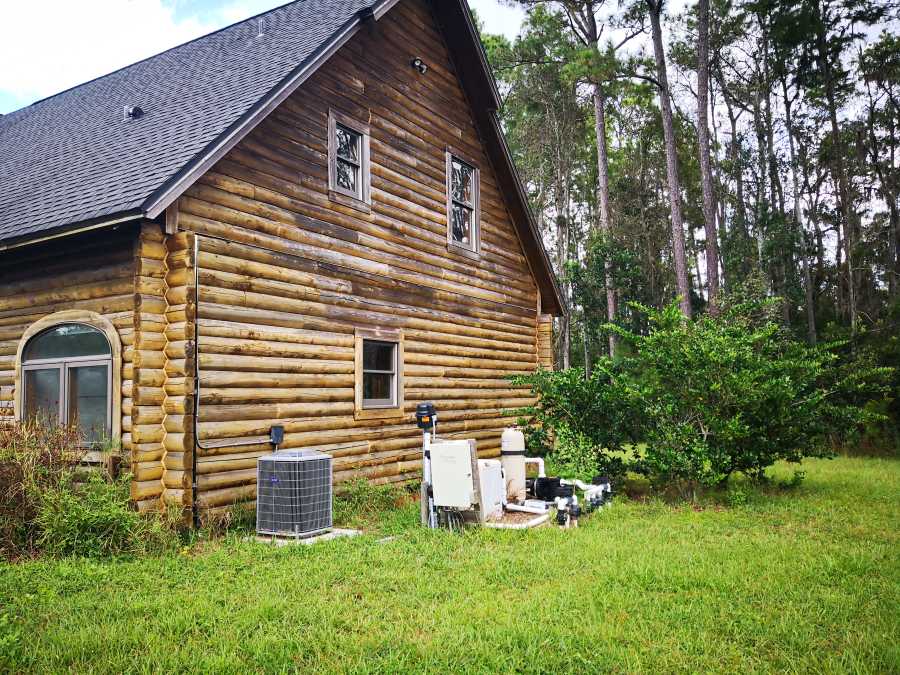 So the first stage of repair is to remove the old sealer and stain back to bare wood with specialized log cabin sandblasting. The goal of the log prep is to remove anything that will interfere with stain adhesion and this includes the old wood surface known as wood fuzz/grey wood. The very outer layer of the log is often in state of decay while the interior of a log is still like brand new. The old exposed wood needs to be removed even if its only removing 1/100th of a inch. The old wood fuzz, wood rot and mold, interferes with stain being absorbed into the deeper good wood.
If you have months to spend, hand sanding will remove it. $200 in sandpaper and 420 hours of your time and you could strip off the old stain and sealer. Be careful you don't fall off a ladder.
Or hire a professional that has the specialized equipment and we'll get it done in one week. Now we are going to take that nasty looking wall and perform our magic on it. Sit back and watch and enjoy.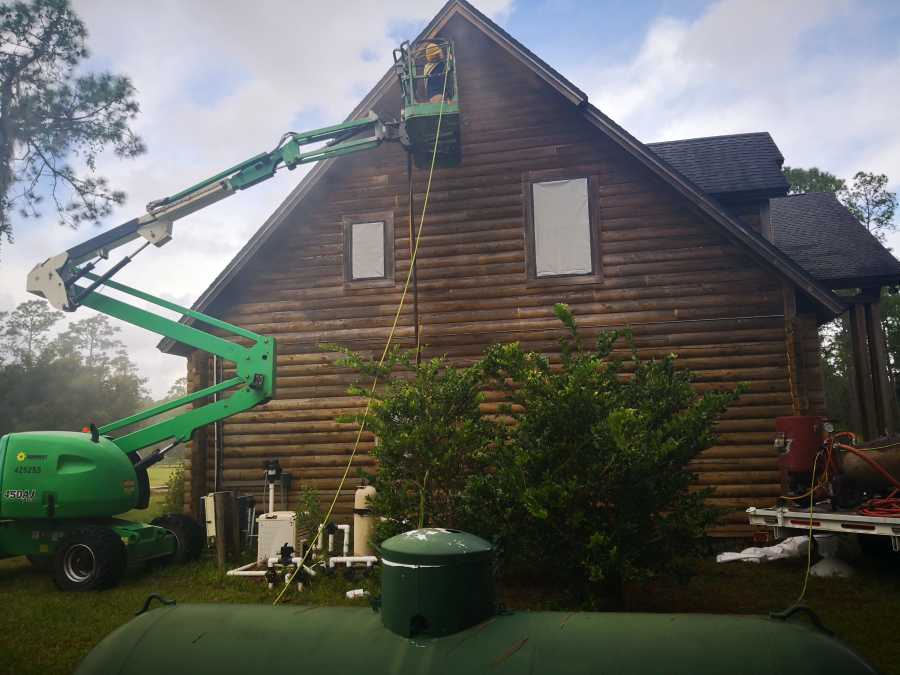 Below you can see our huge log cabin sandblaster which is very fast and efficient so the square foot costs of rejuvenating are much less that the other options for removing old sealer and stain.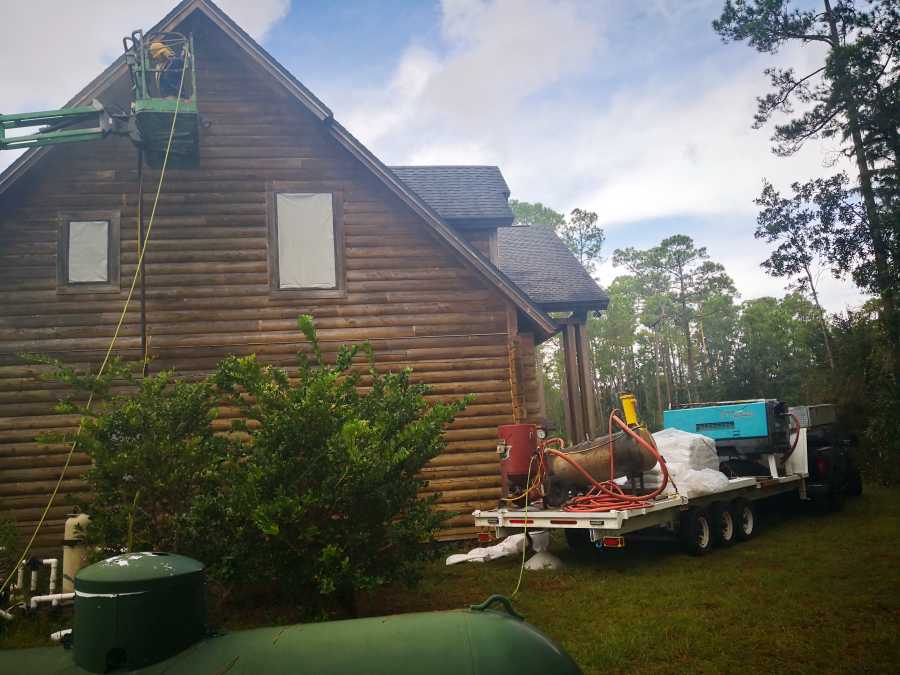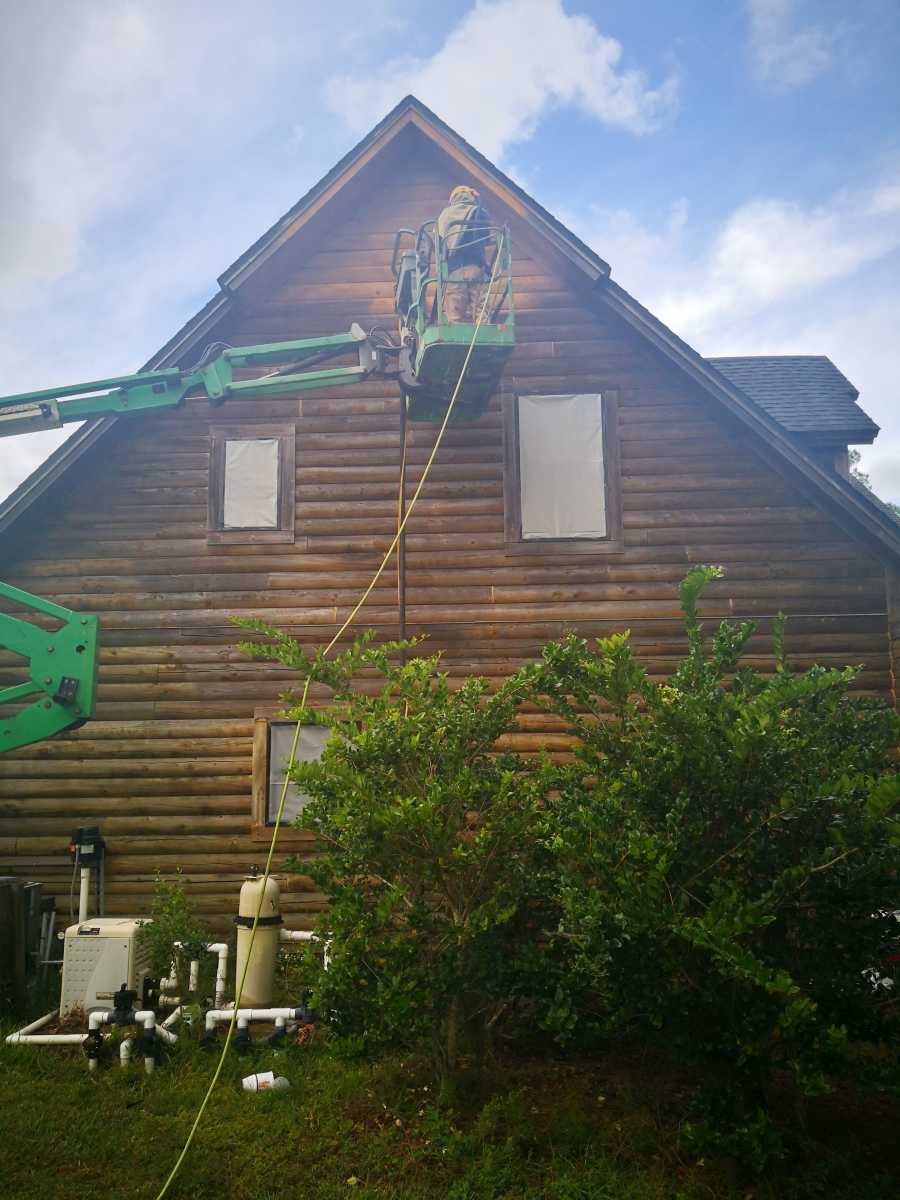 If you're in love with a log home that needs a little TLC, like this one did, don't fret! A good restoration professional can bring back a log home's former glory back to new.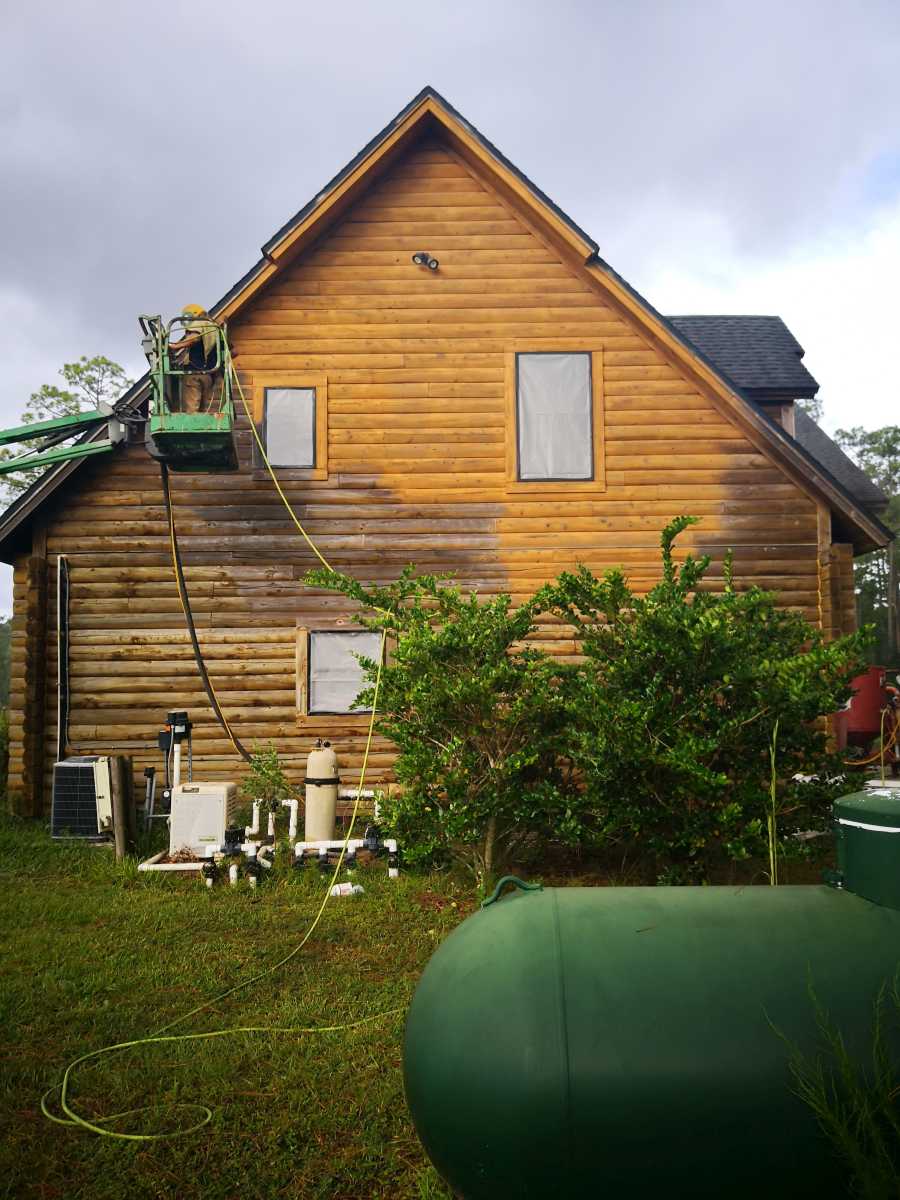 Now that we are back down to new wood again, it will fully/properly absorb the sealer/stain and be protected for another 20 plus years.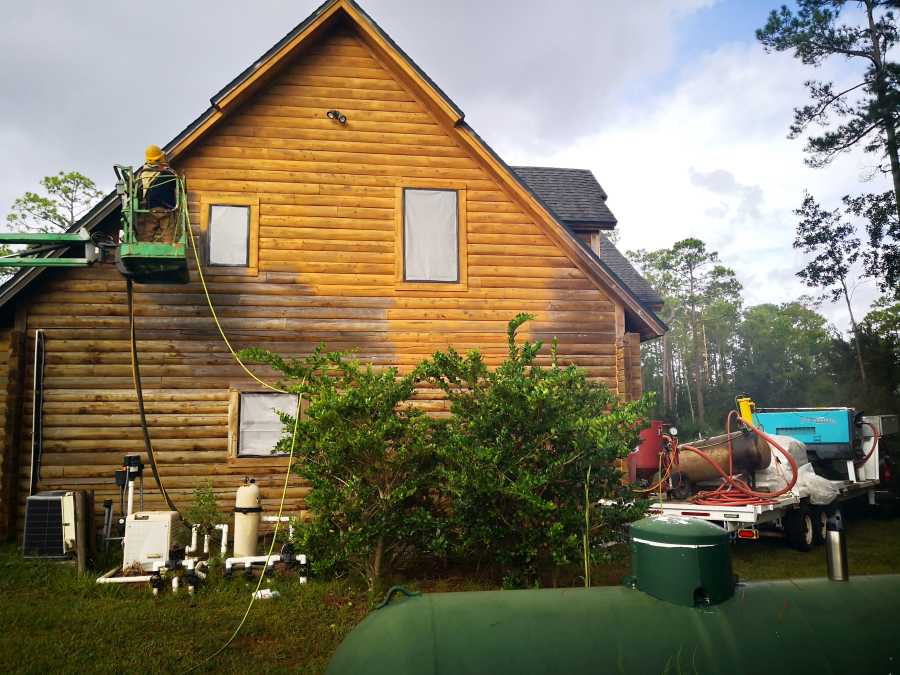 Yes traditional sandblasting/dry sandblasting makes some dust. But when we stop blasting the dust is gone and dispersed in 15 seconds. A little sand dust in your grass is insignificant.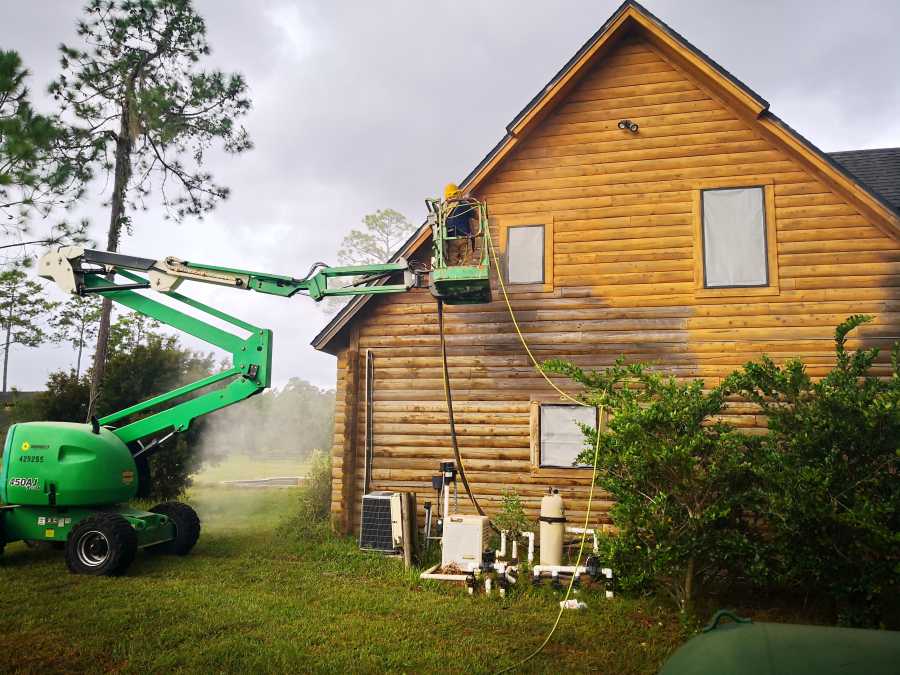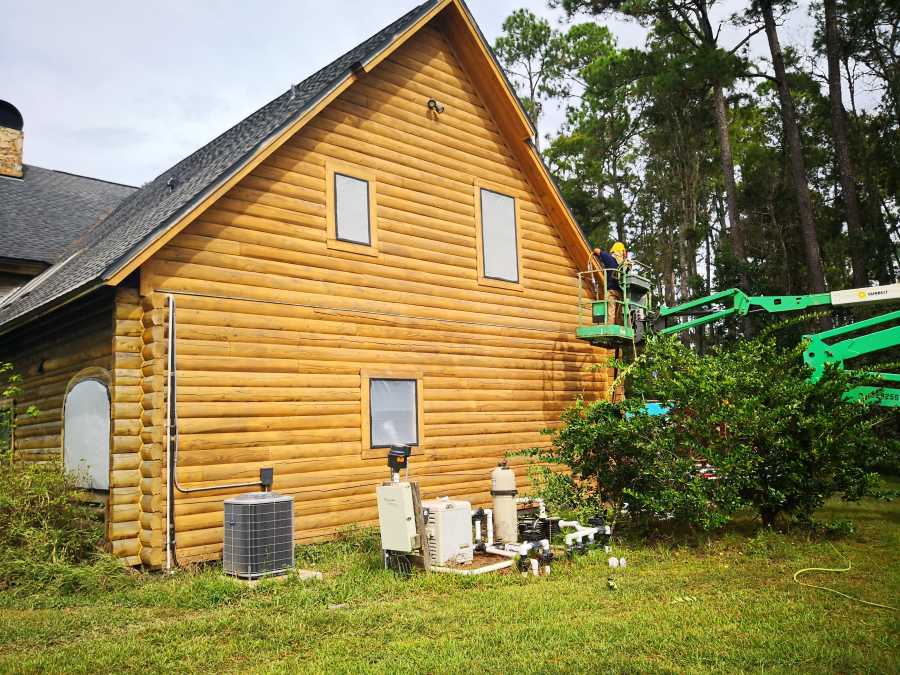 Above and below are the same log cabin wall from different view points, after sandblasting(above) and before sandblasting (below). Amazing isn't it?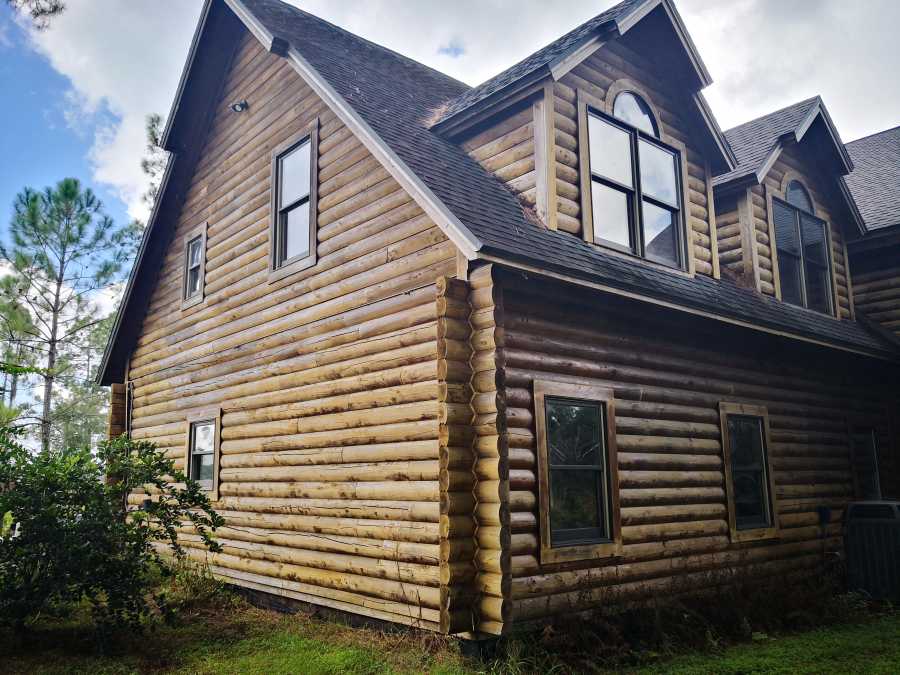 Now you can see the before and after in the process of being done on the side of that 3 car garage. The front of the log cabin garage has already been sandblasted/restored and now he is part way through the side wall.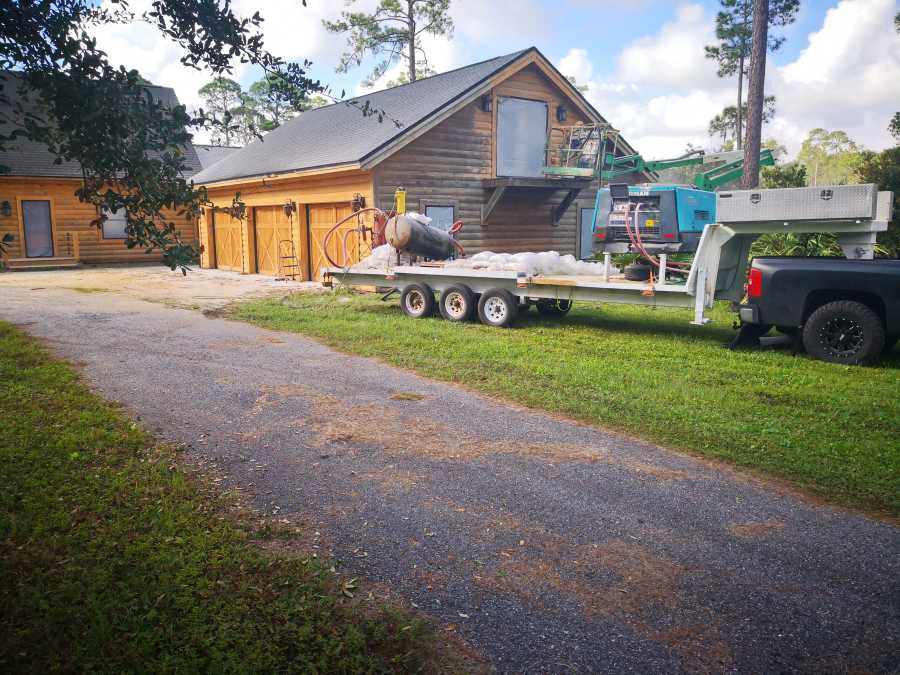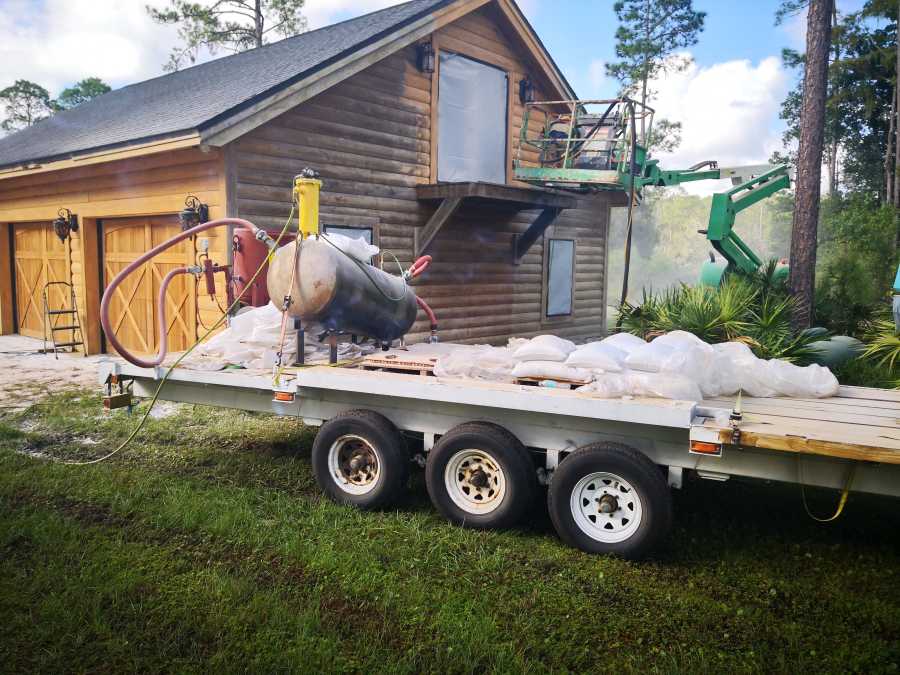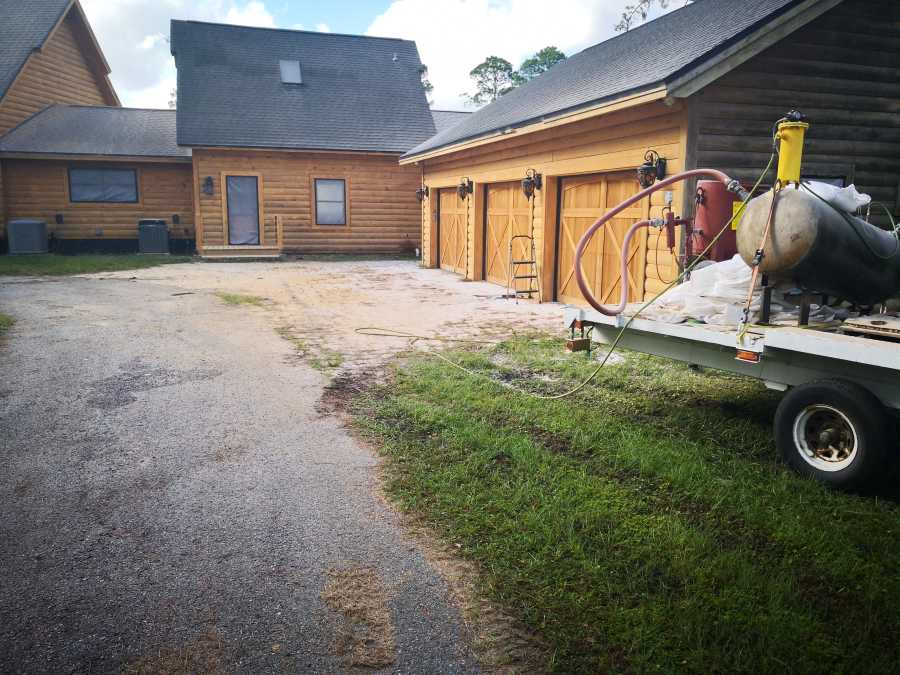 If you look close, you can see which log cabin walls have been sandblasted and which walls are waiting their turn for restoration.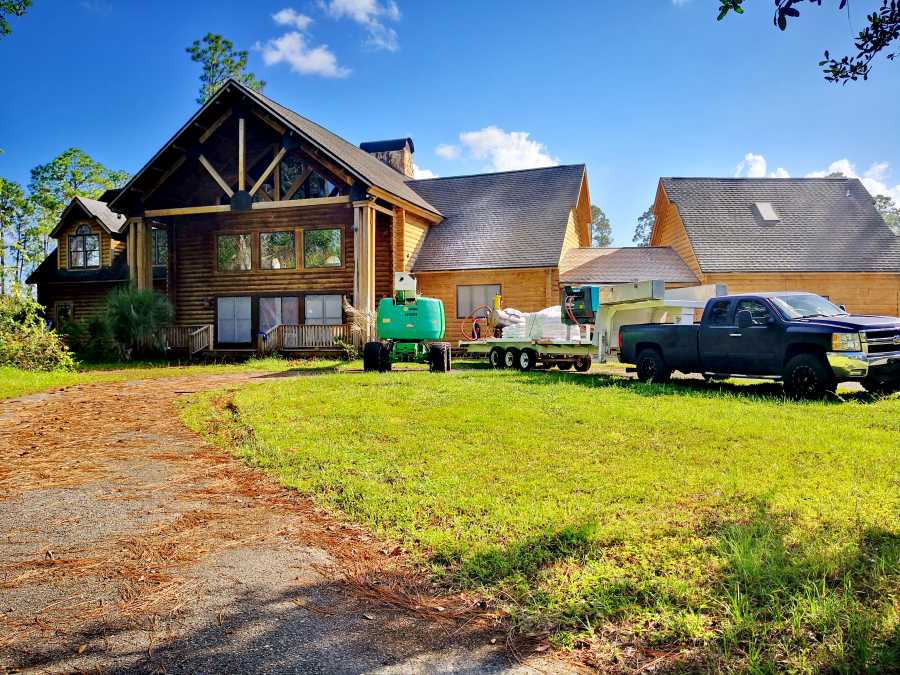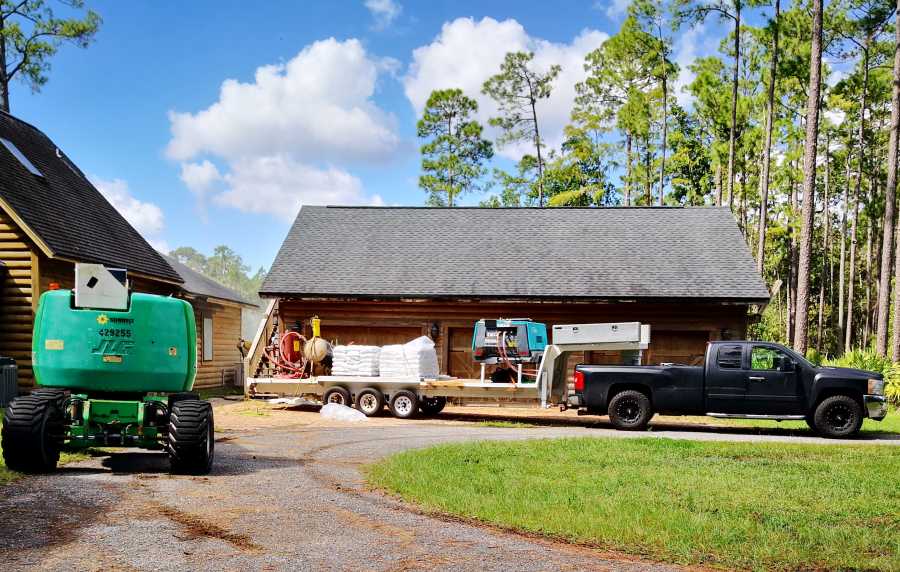 Normally there is at least a slight breeze. In even a little wind, the sandblasting dust disperses so fast, there is no problem. But once in a while there is no wind at all, and in a confined space the dust will build up and is easily visible. But so what? It still falls to the ground.
Any dust that gets in or on objects which we don't want to have dust on them, like the AC or that generator, we use a giant air hose and blow the dust out and off. Dust clean up is easy and fast.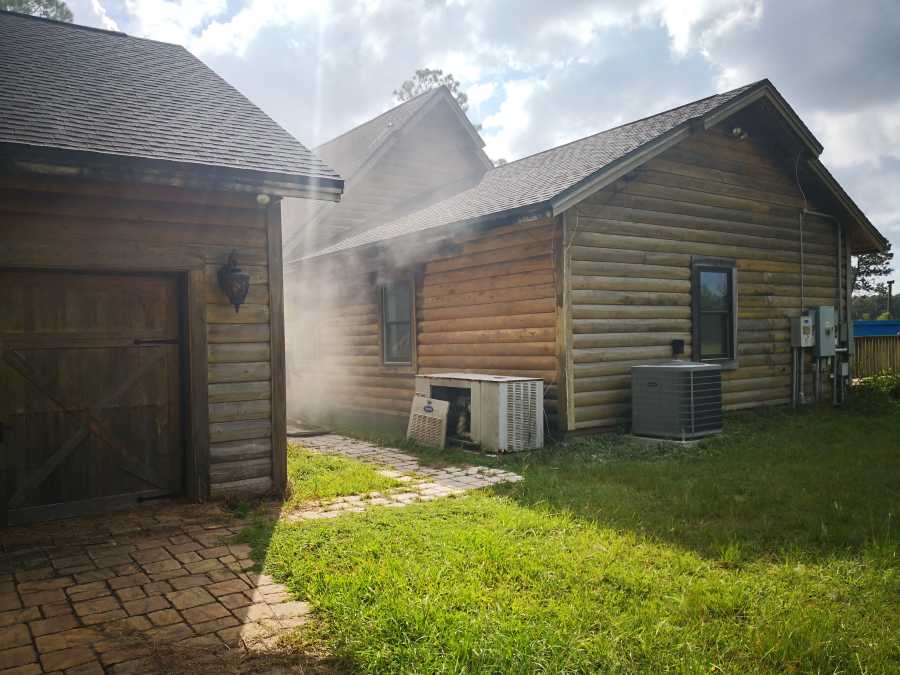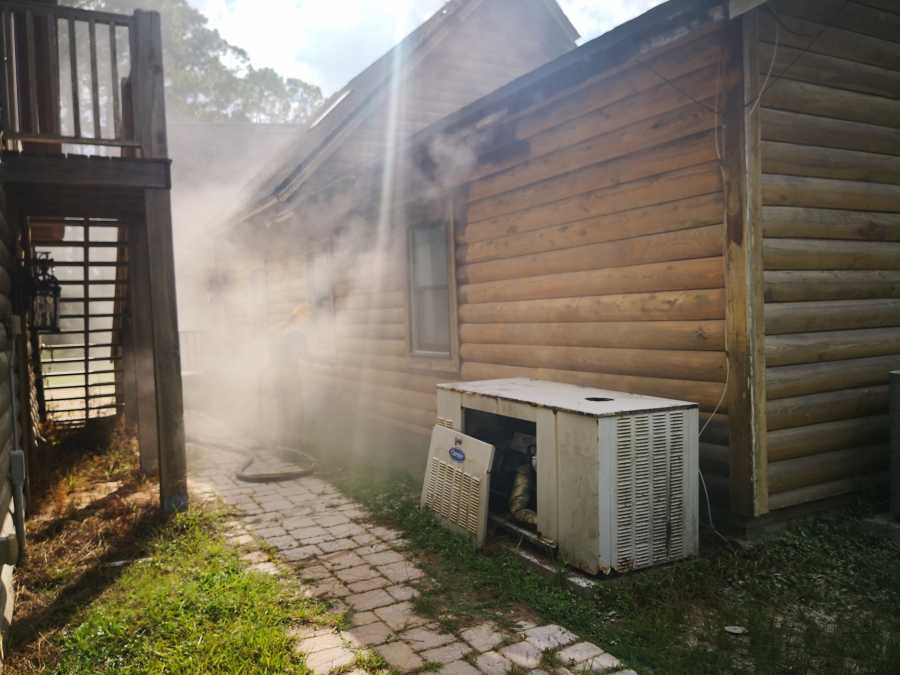 A log cabin sandblasting expert with the right rig, can clean and strip the timbers while barely altering the texture of the log. Beware, a amateur virtually cant stop them selves from cutting deep grooves into the wood. It is so common to cut grooves and deep texture in the logs that most people say sanding is necessary after blasting. Well that would be true if the blaster operator was a amateur.
Now in all honesty, not all logs are the same hardness. 5% of the logs are significantly softer than the rest and they cut faster and deeper. If you want a smooth finished surface, then about 5% of log cabin logs will be touched up with a sander.
Below, this wall has not been sanded. Our stripping service is that good. That's how it looks after a expert gets done blasting. The window of success of stripping off enough while not stripping off too much is a very narrow window of success.
Unfortunately there are very few log cabin sandblasting experts out there and I don't travel everywhere, so you might be flipping a coin when you hire someone who does not have picture portfolios of their blasting in action. I have heard some horror stories of customers hiring their sandblaster based on low price bidding.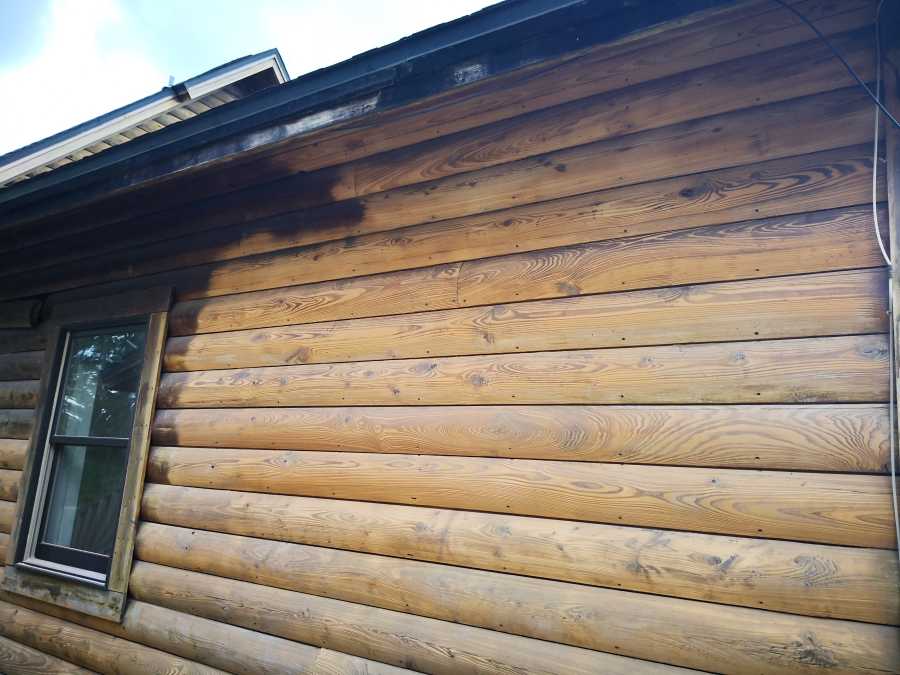 Its easy to see which parts of this log cabin have been stripped of the old sealer and stain. Soon it will be ready for recoating with new stain/sealer to preserve these logs for another 20 years.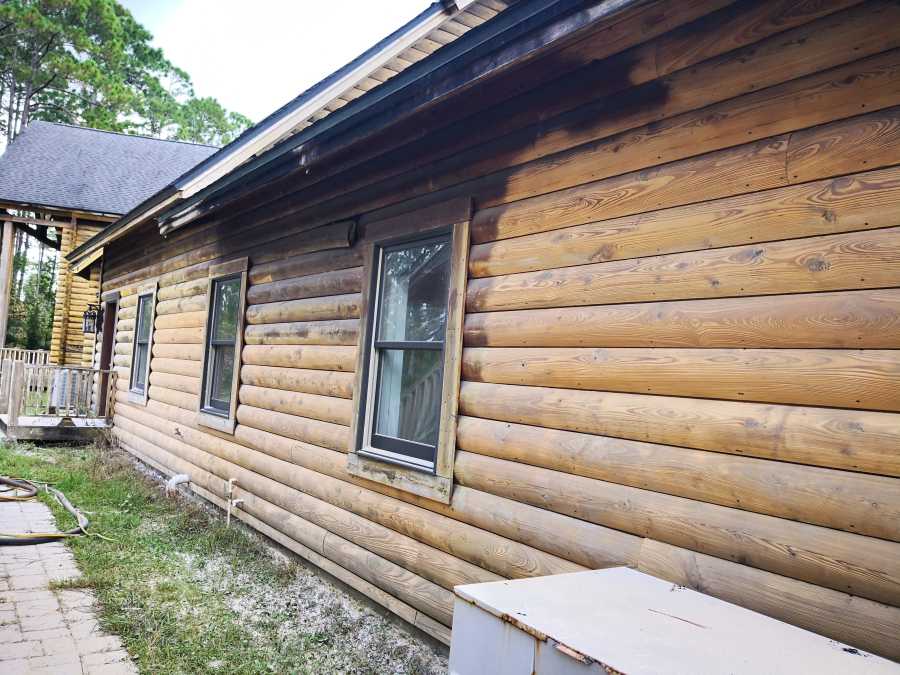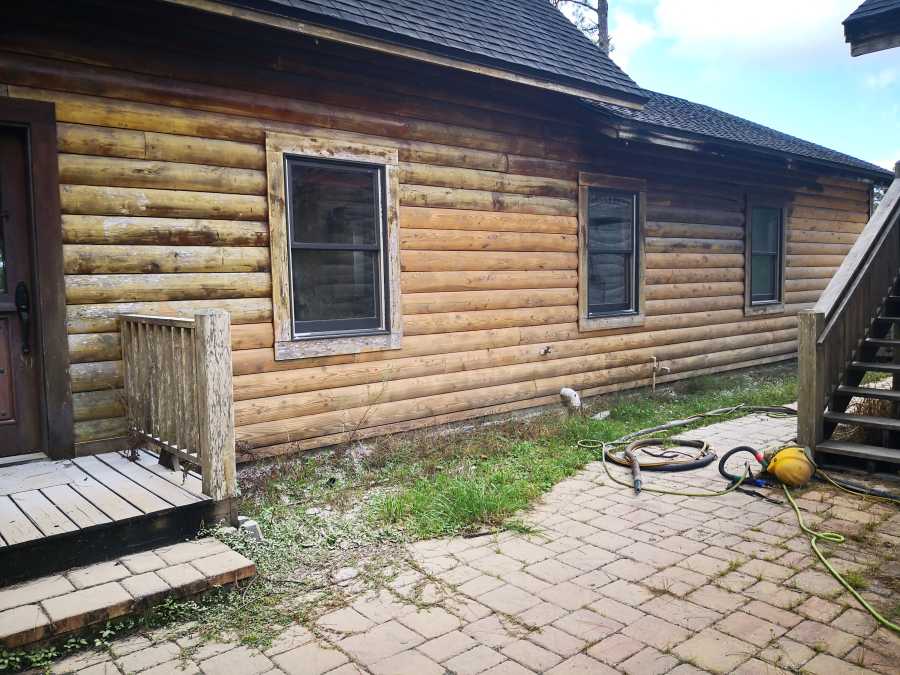 Sometimes we sandblast all the low parts of the log cabin that we can reach from the ground. And sometimes we sandblast all the high parts of the log cabin we can reach with the aerial lift. It does not matter if we sandblast all the high parts first, or the low parts first, or if we mix and match the sandblasting. The result is the same.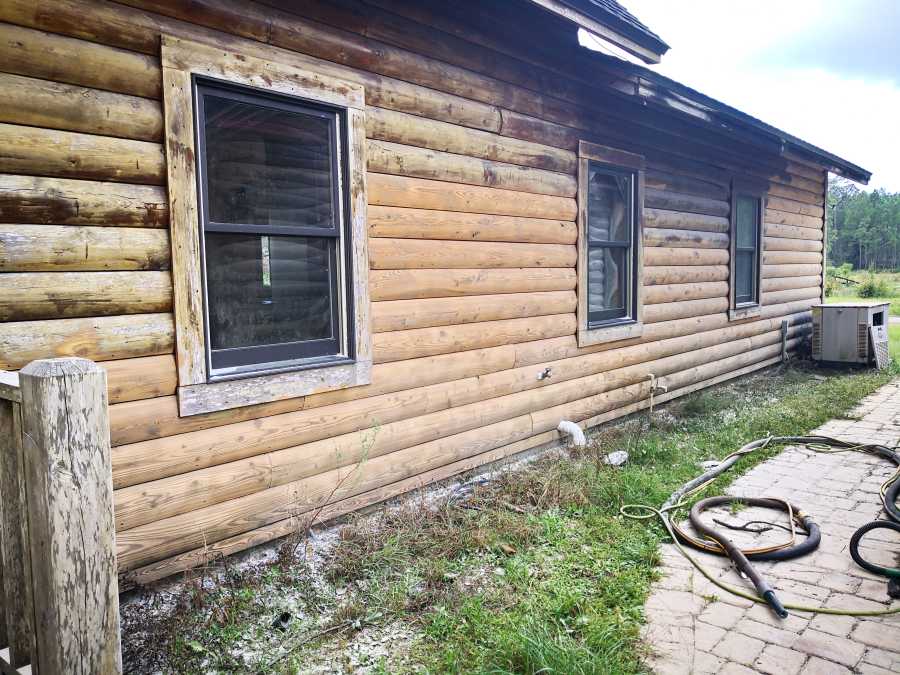 Below: Look how smooth the blasted parts are. I was not the low bidder on this job. However the customer was very smart and obtained what he wanted the most. What is your highest priority?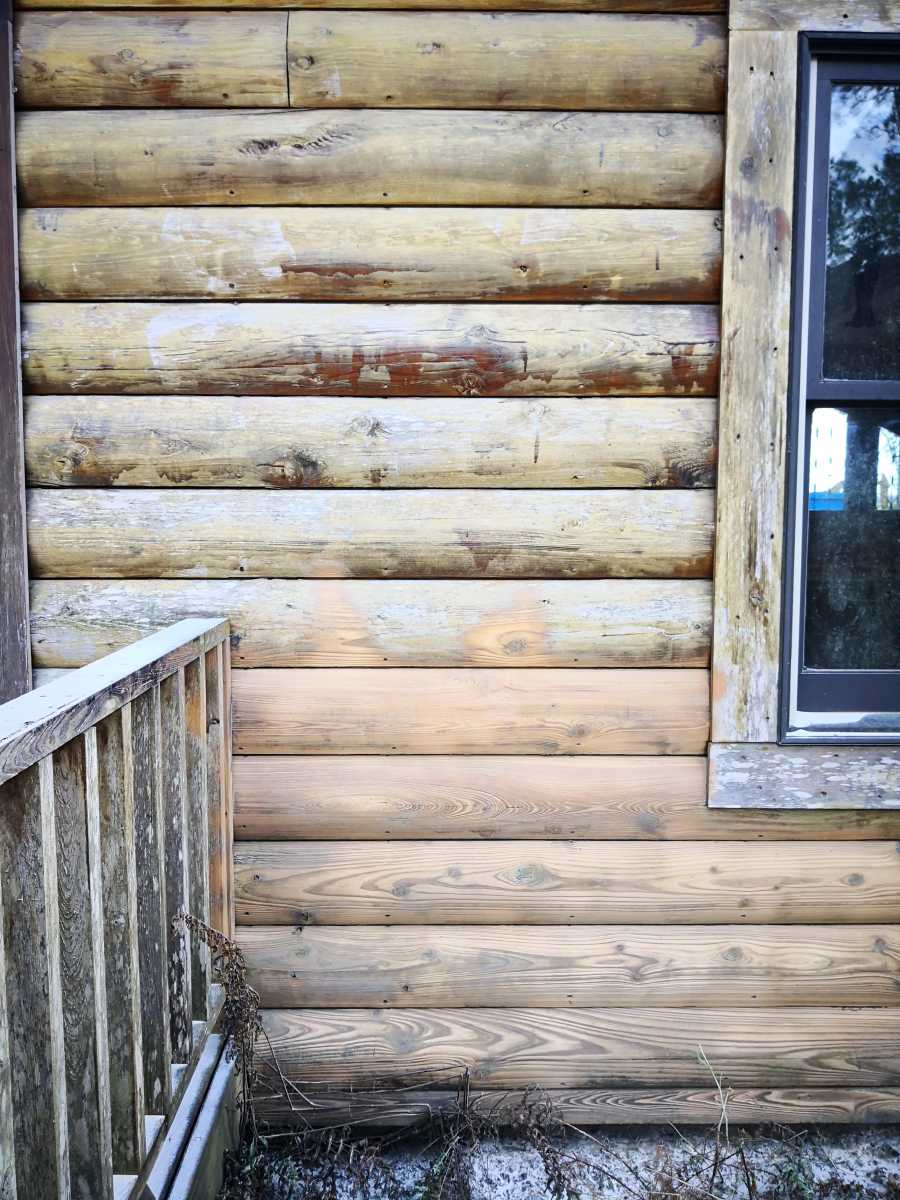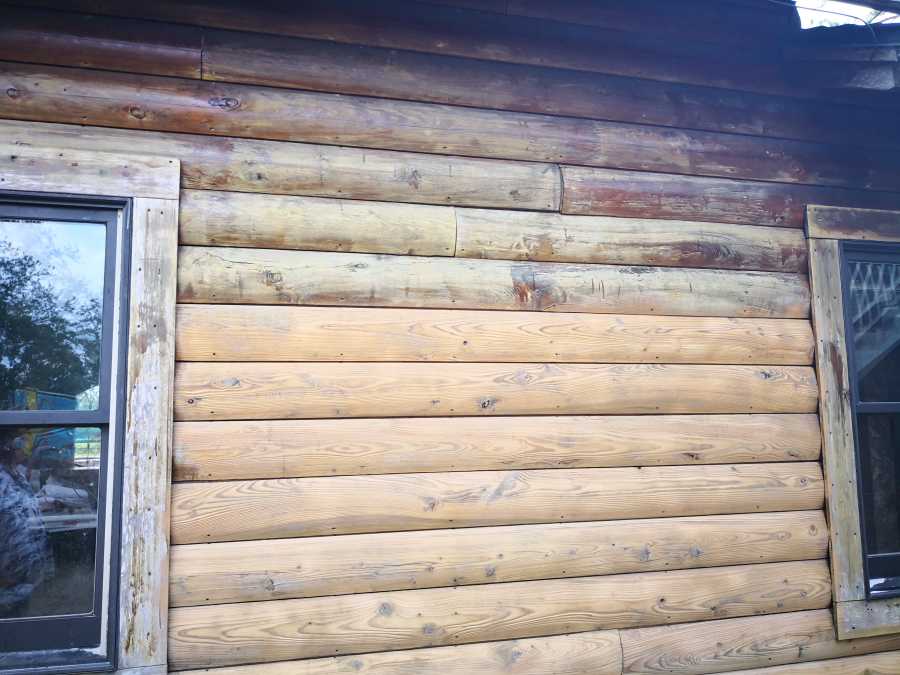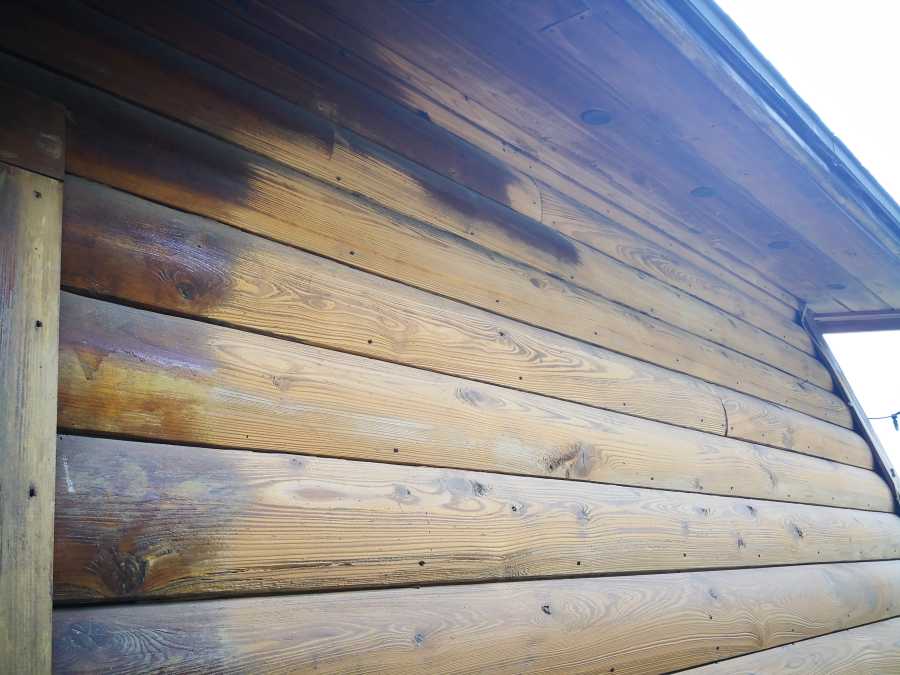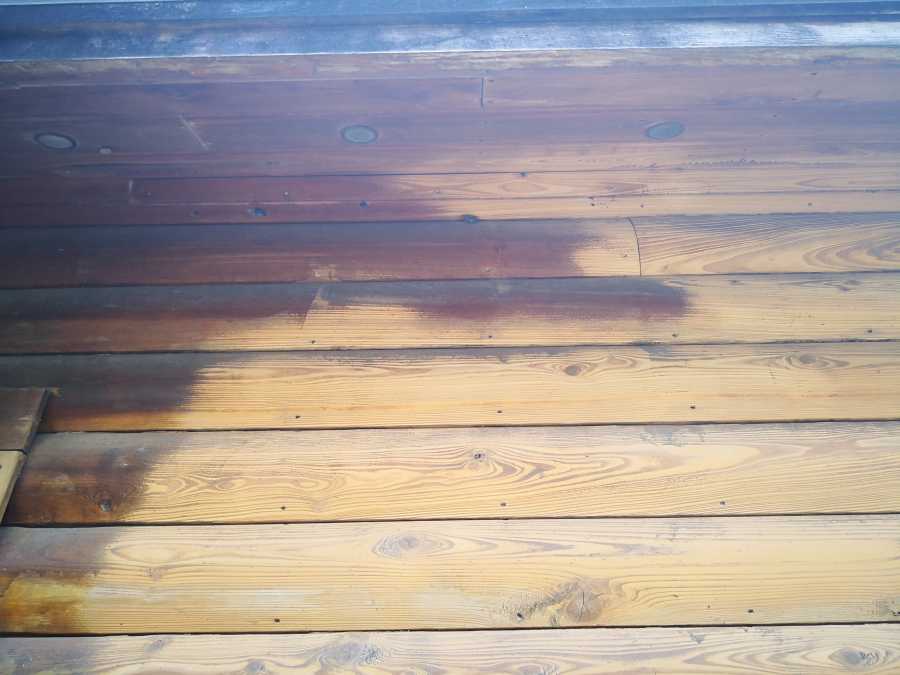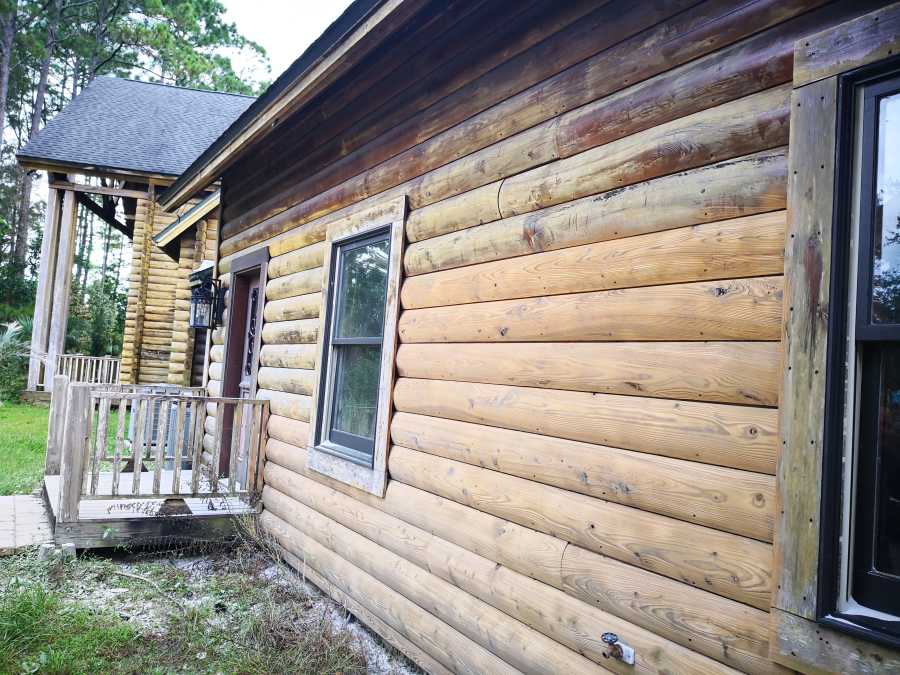 Isn't it obvious which parts of the log cabin still need to be sandblasted/rejuvenated?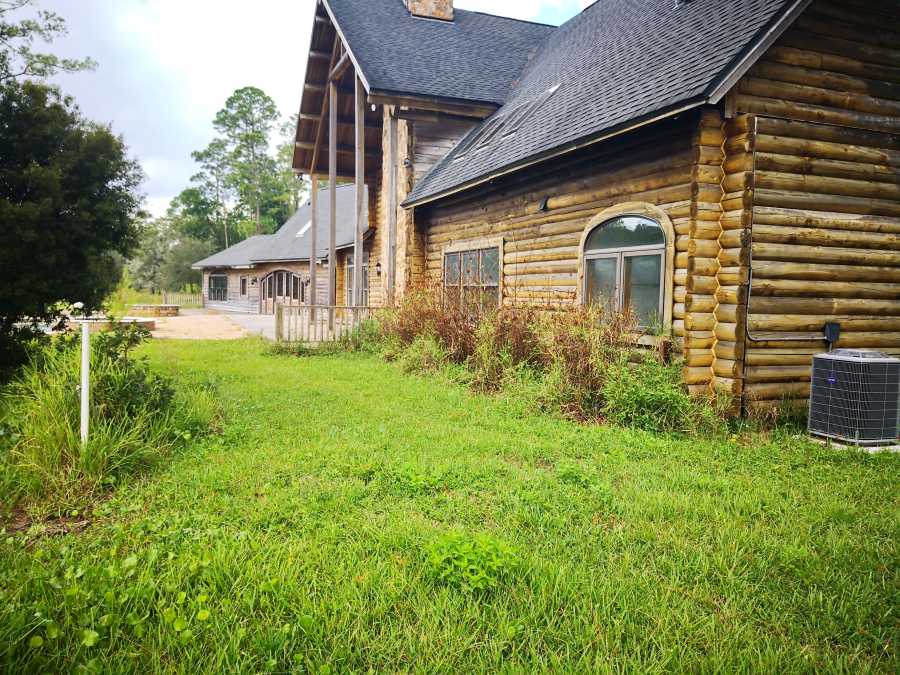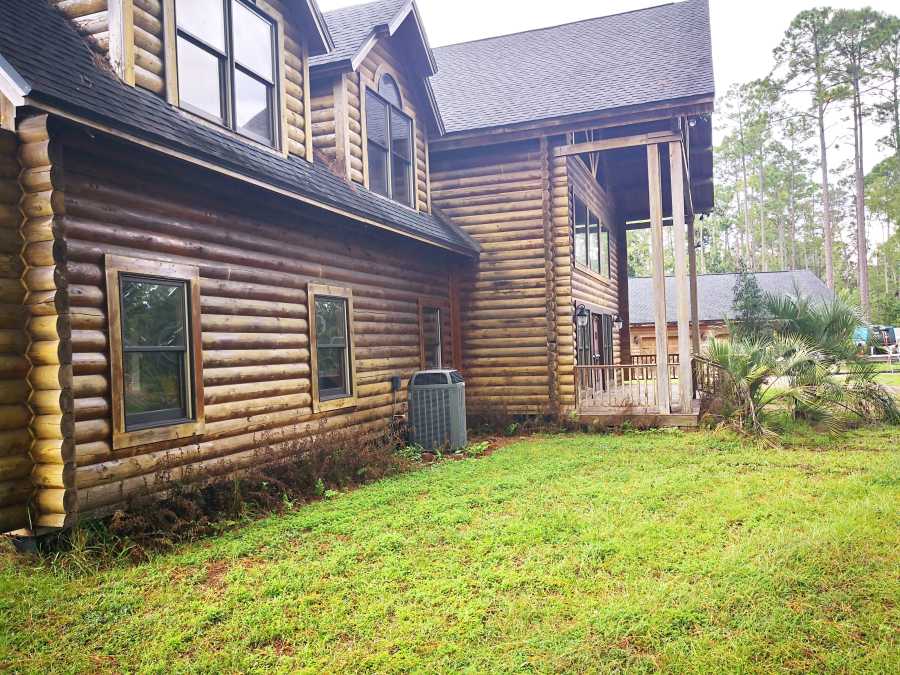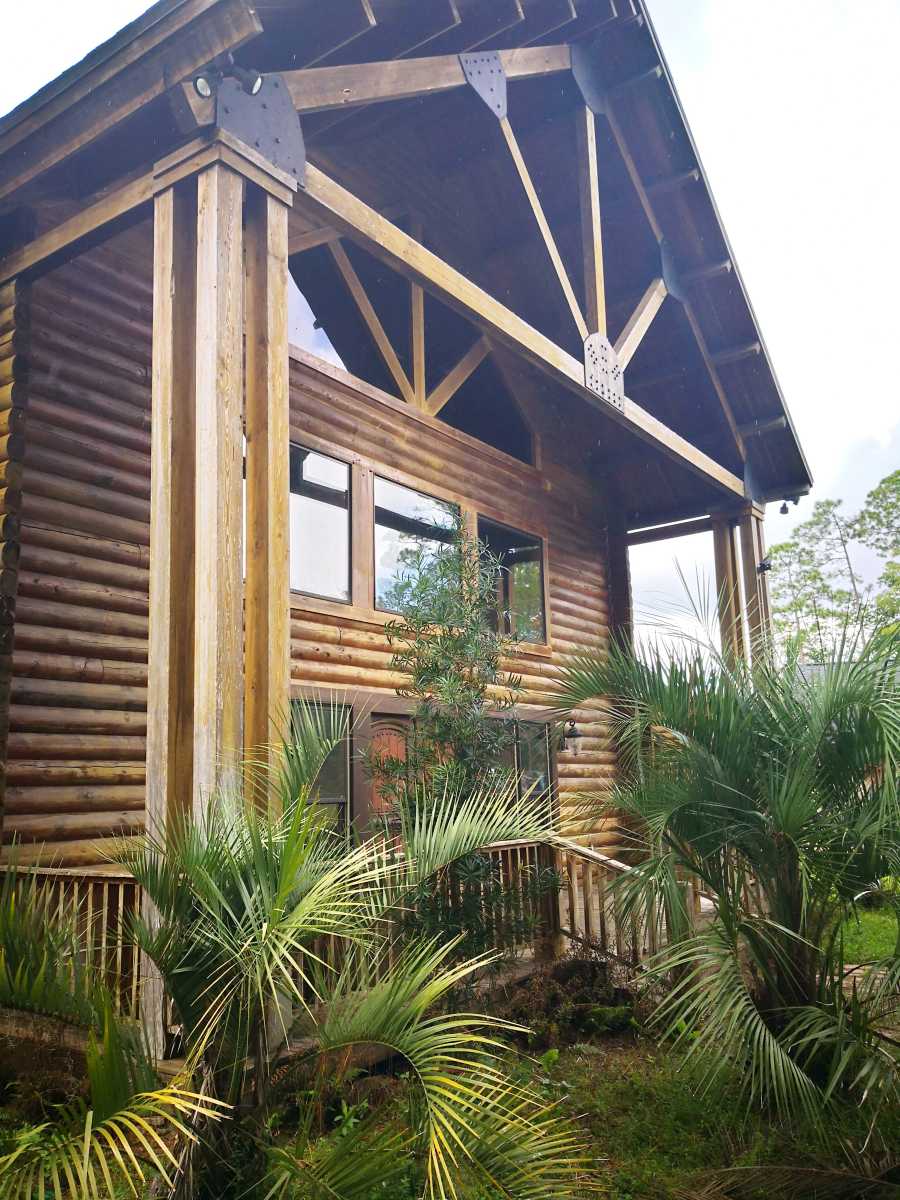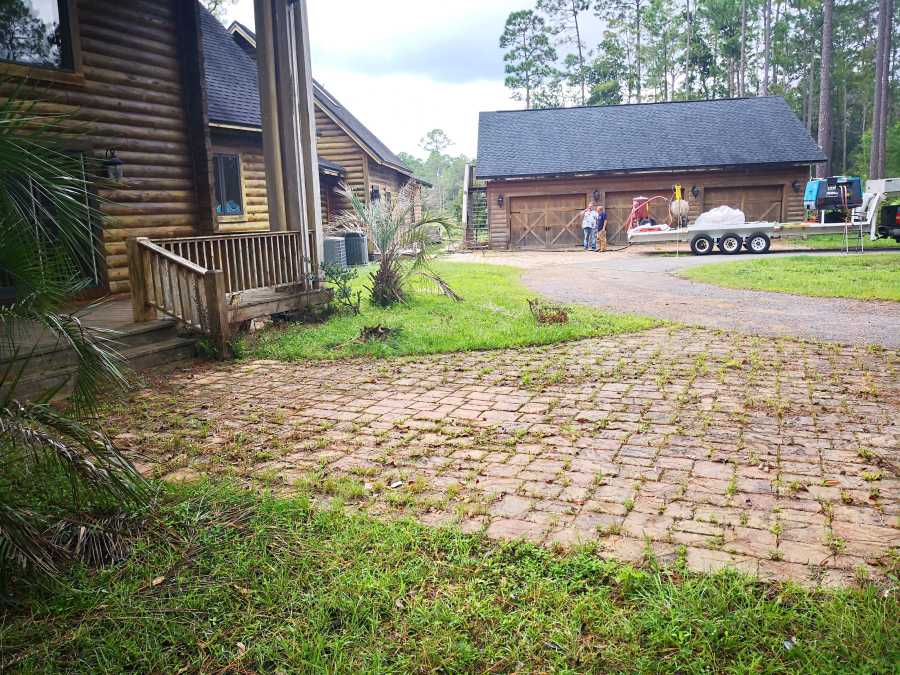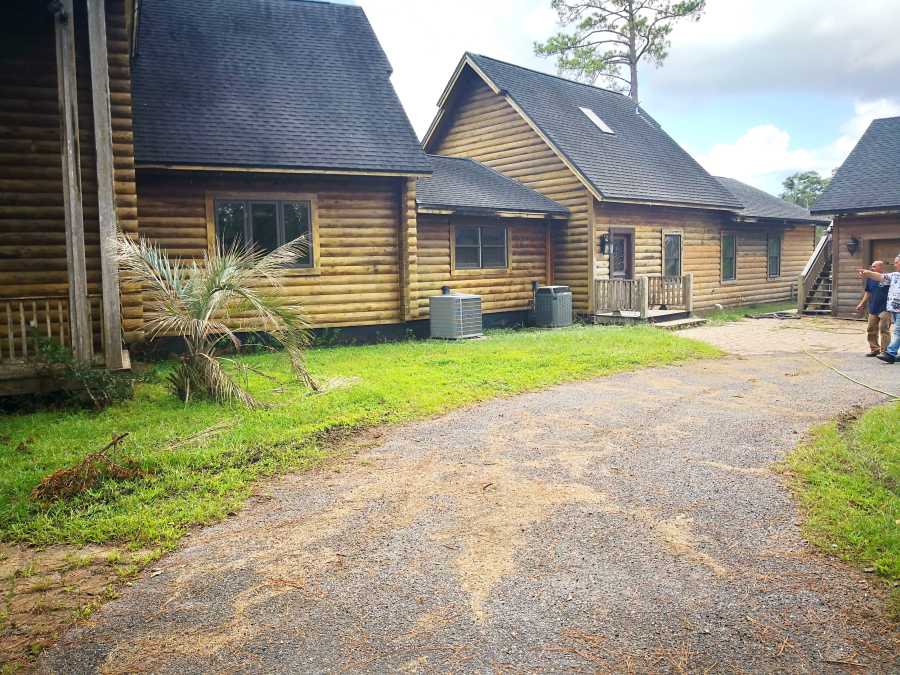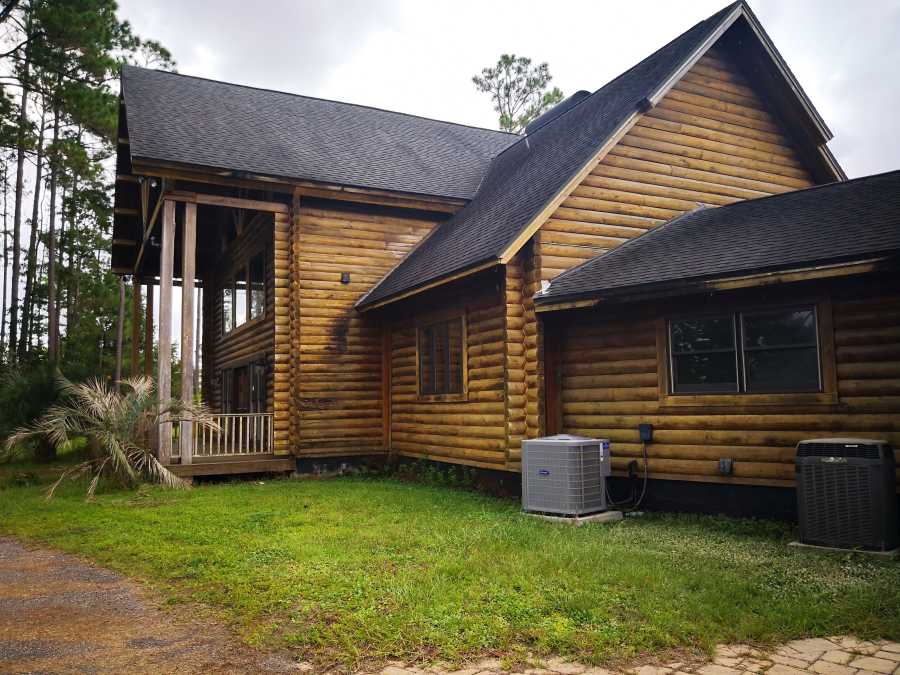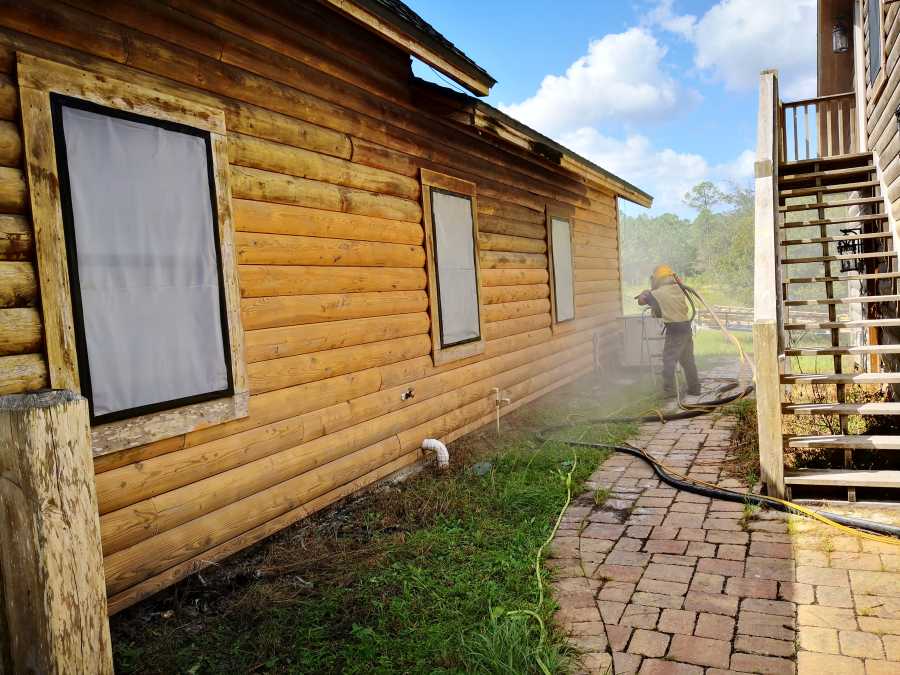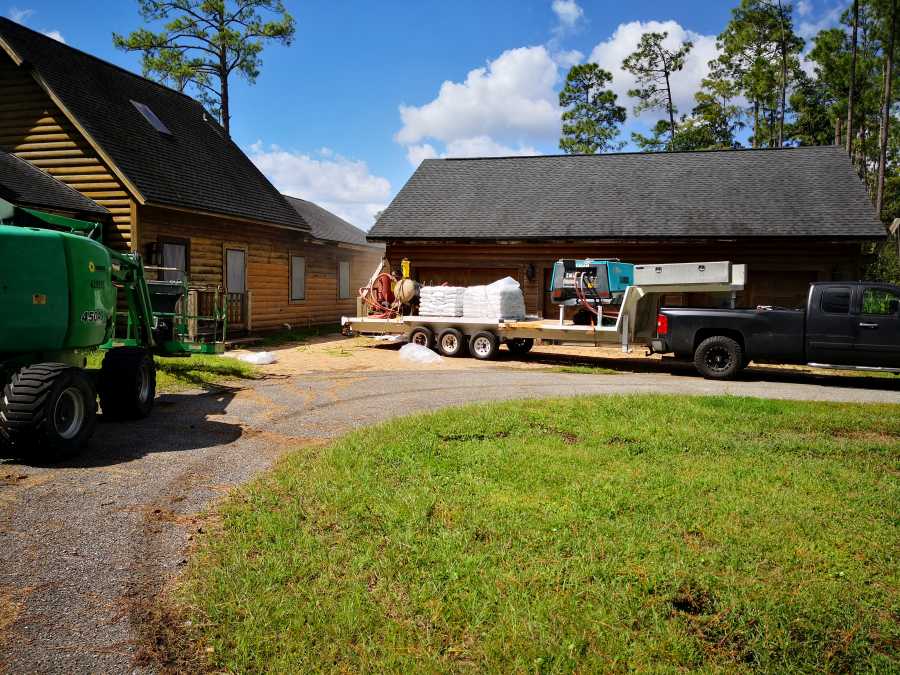 Taping off the windows and covering them with plastic is a job in itself. This protects the glass from being pitted or scratched.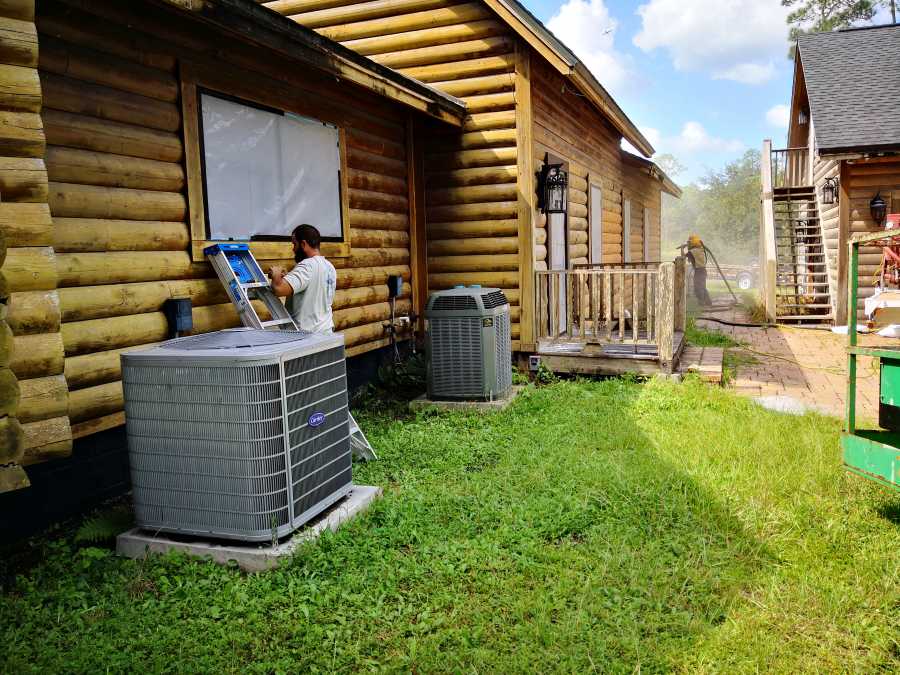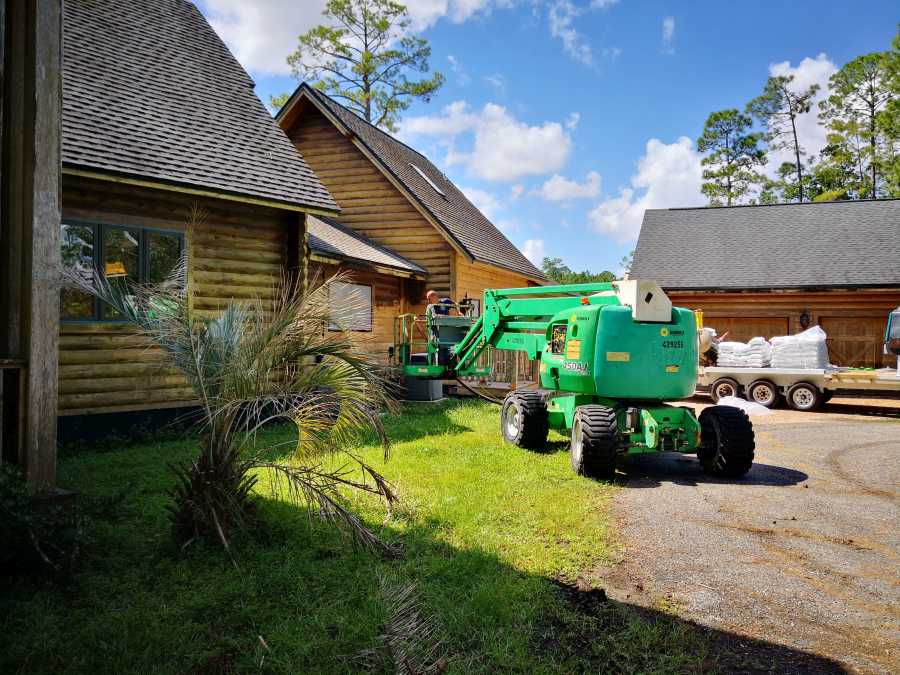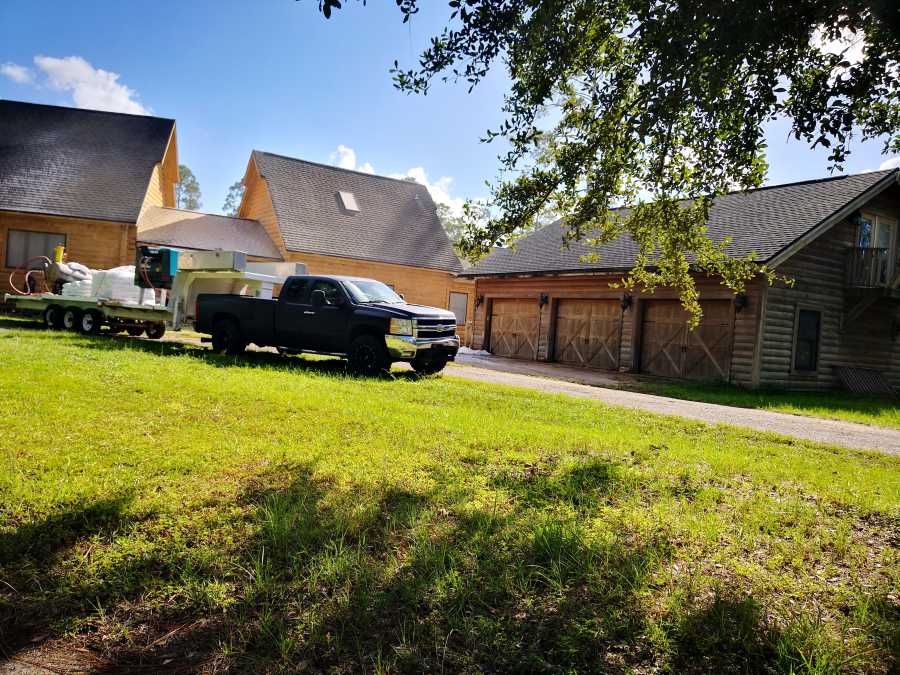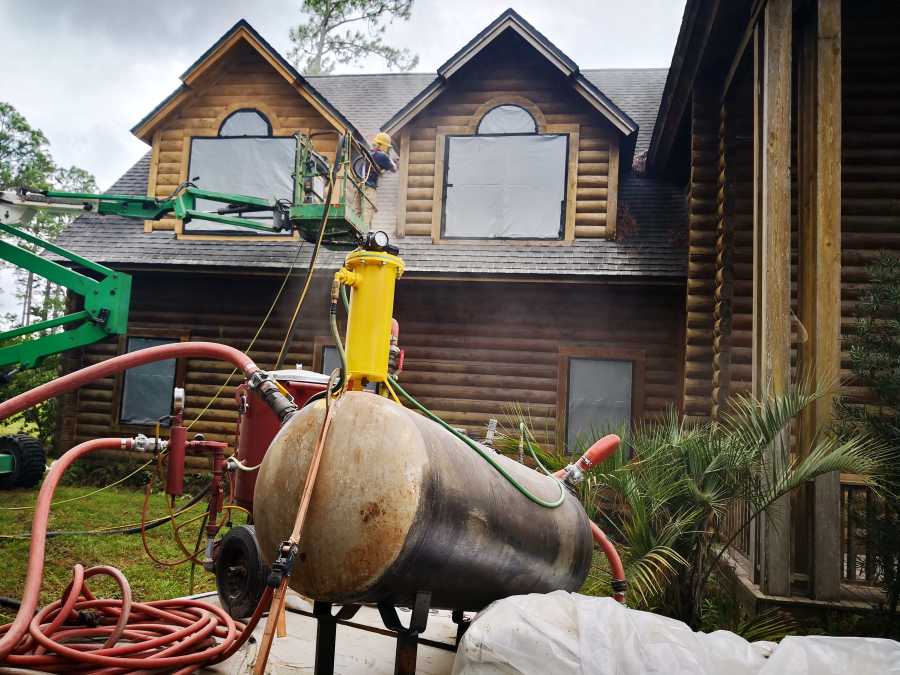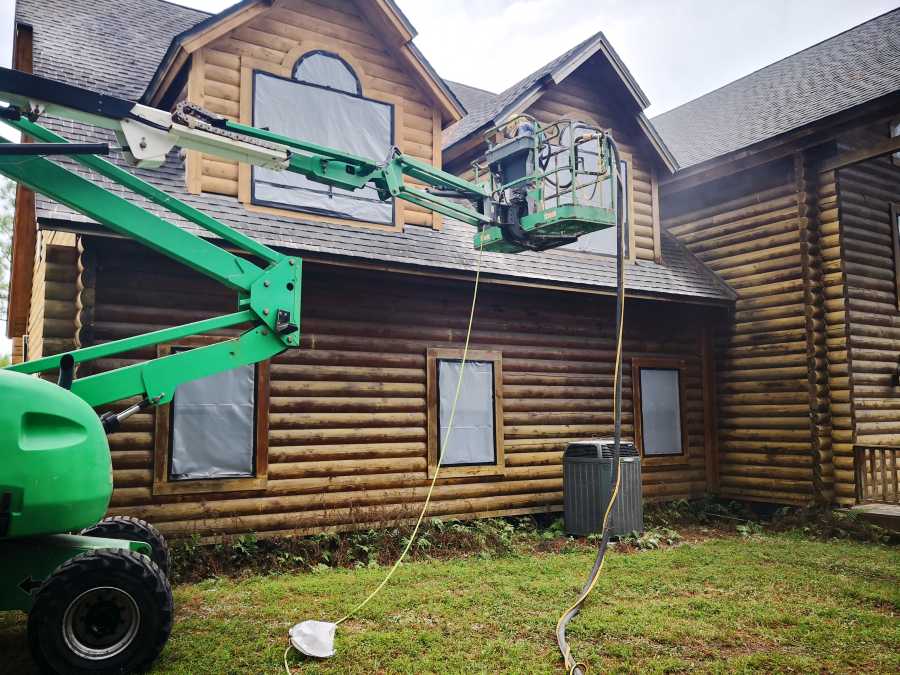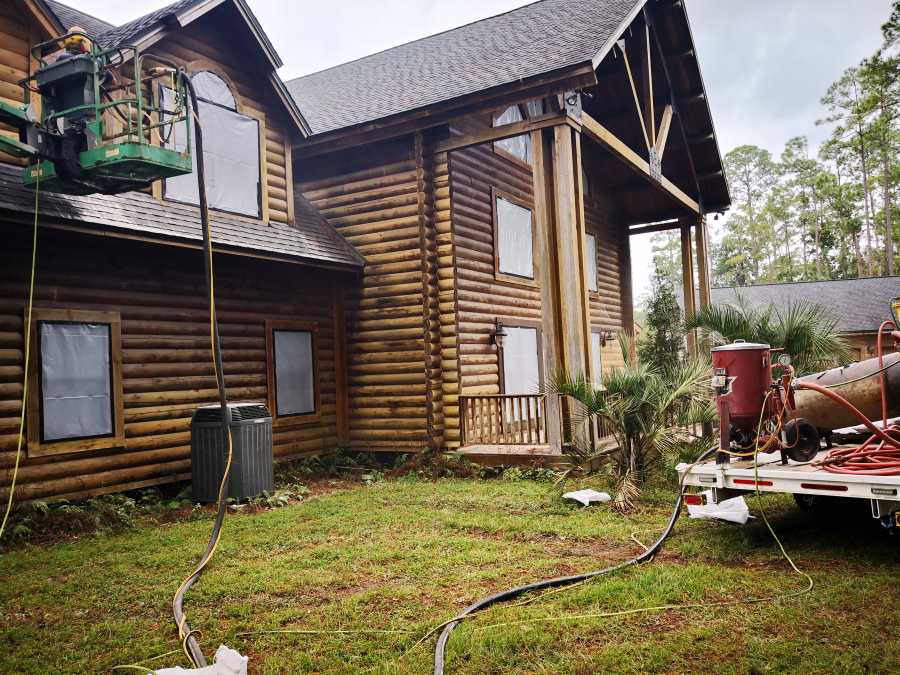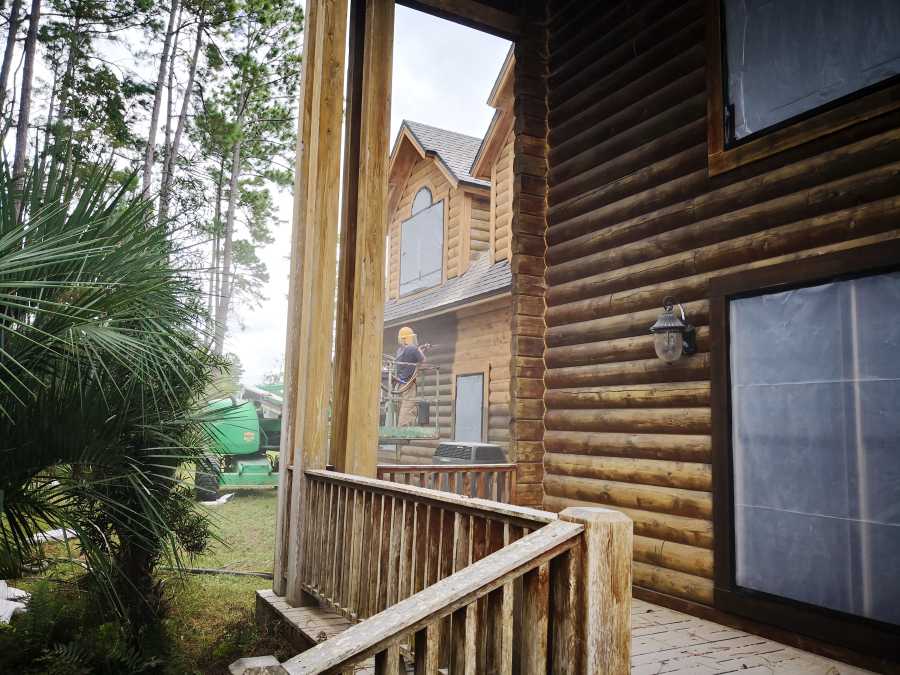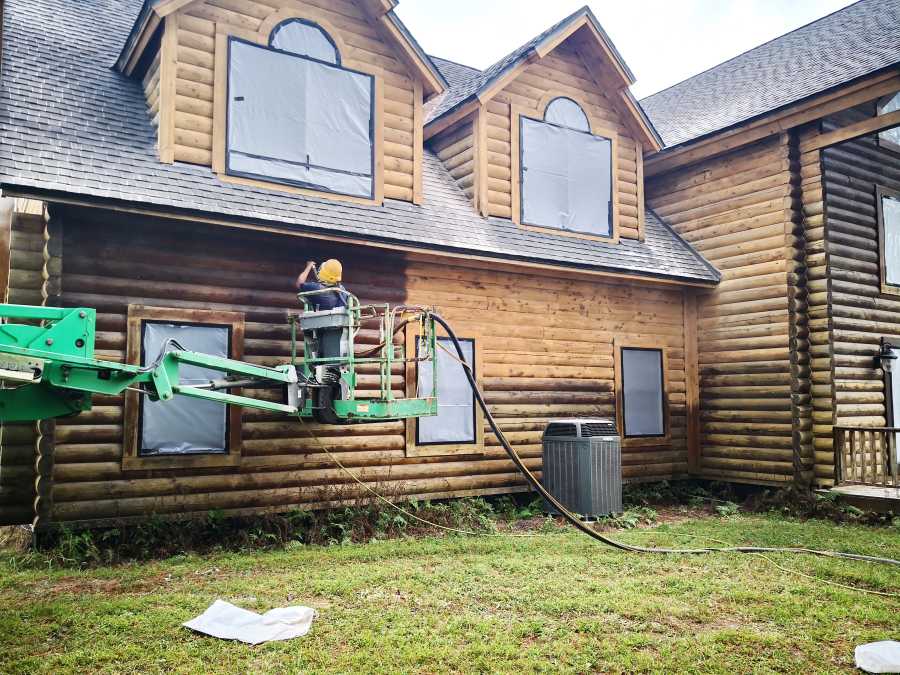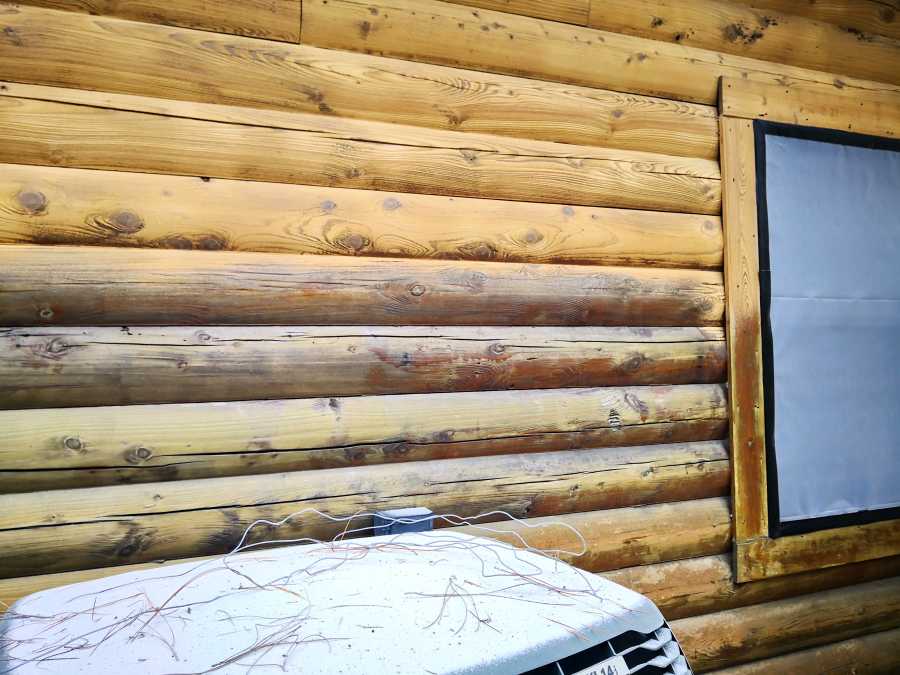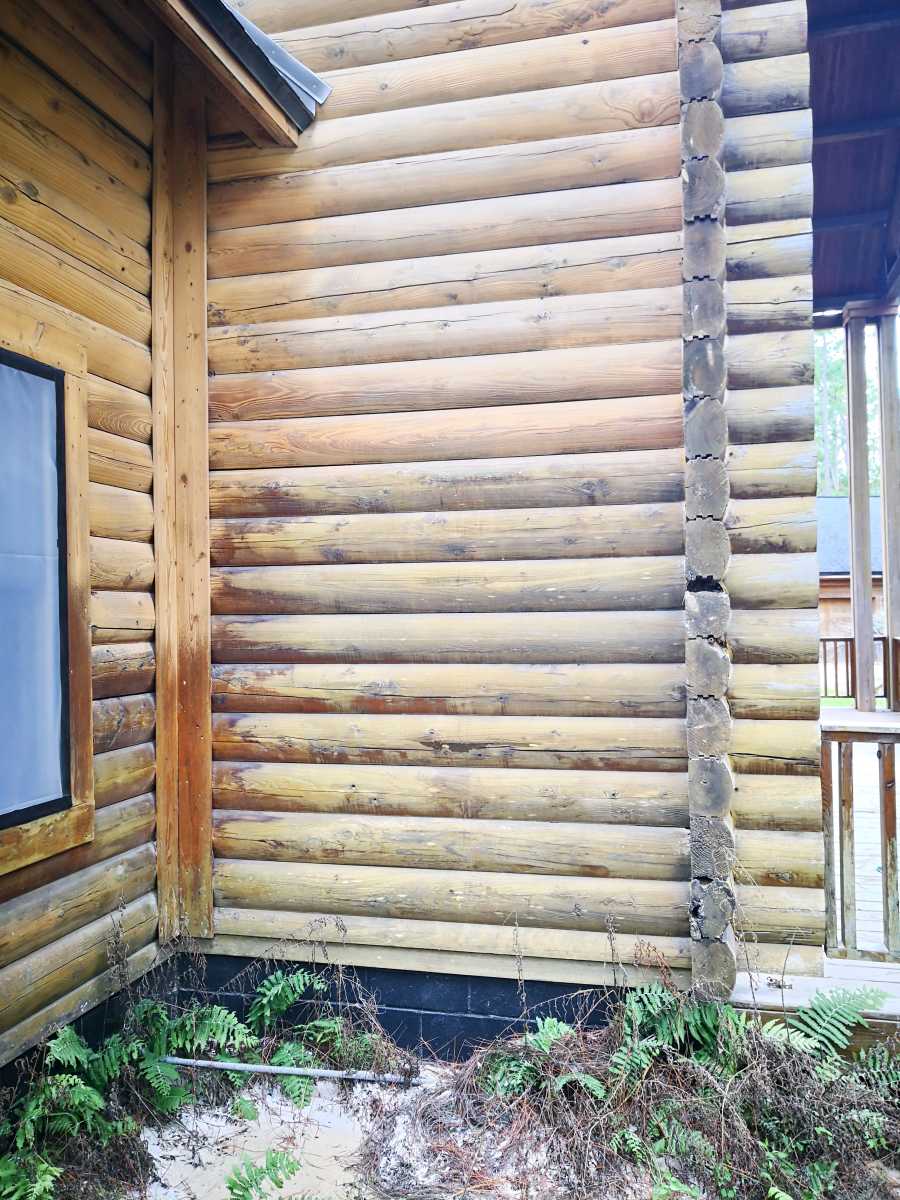 You can clearly see the higher parts of the wall under the roof eve that received less direct sunlight, degraded less than the wall area that received lots of sunlight.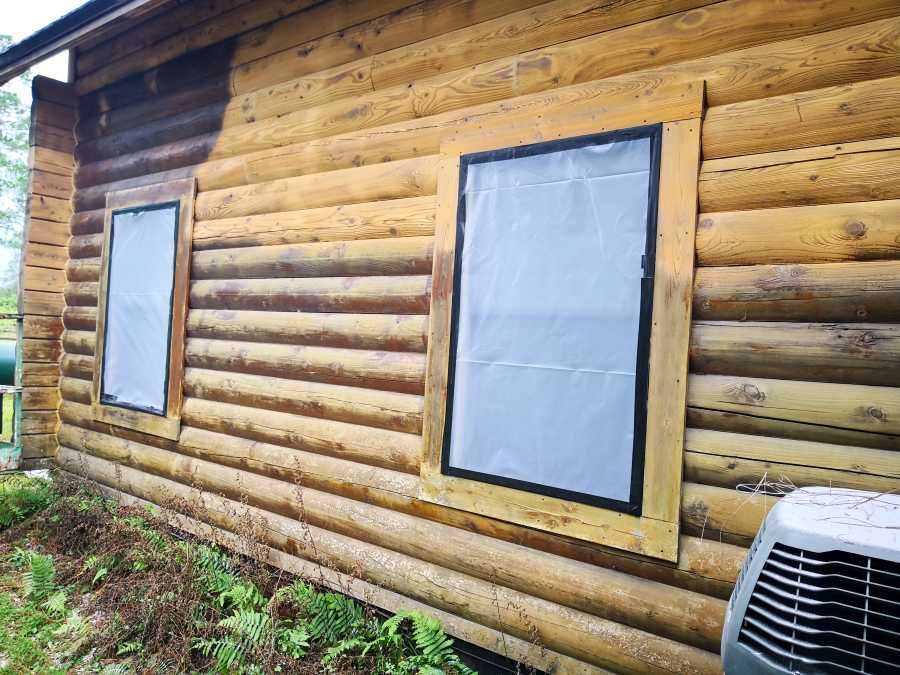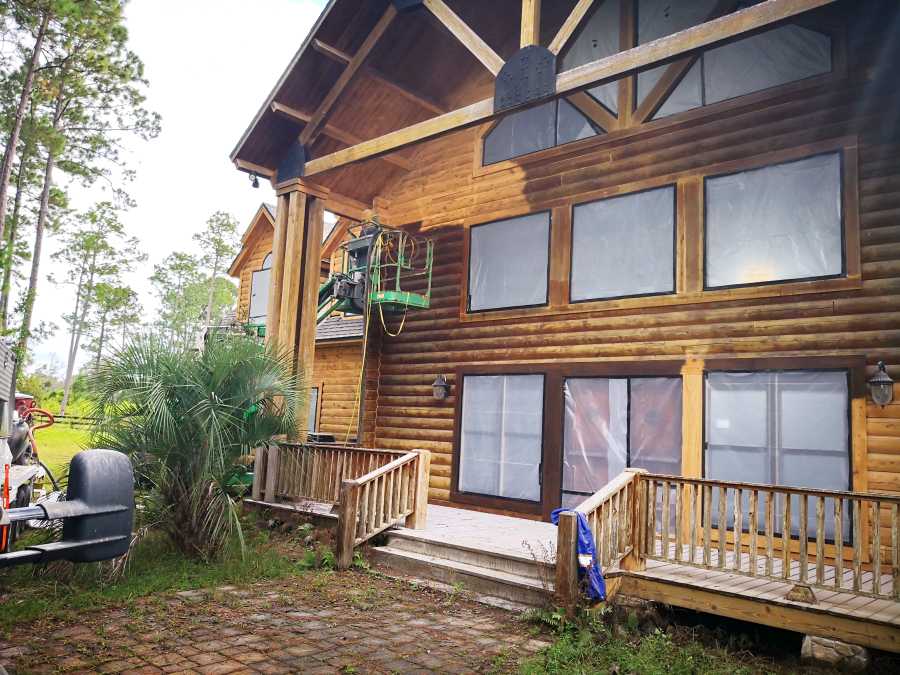 Most aerial lifts cannot get up and inside the beams and rafters. It takes a special unit to get inside and around the obstructions and it costs extra. But what's the other option? Only do the easy stuff? You will love our thoroughness. But remember, you get what you pay for.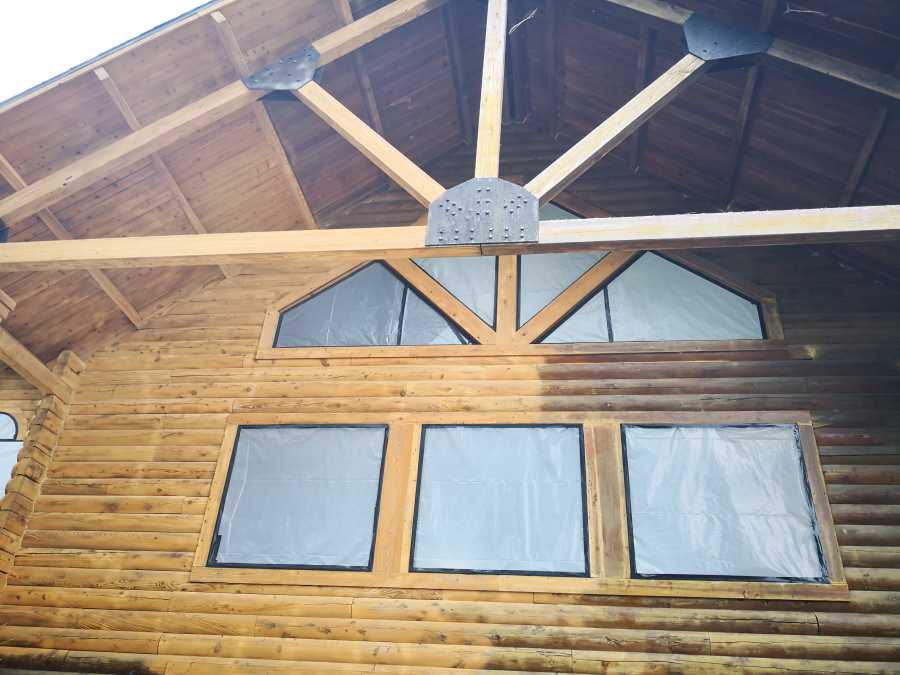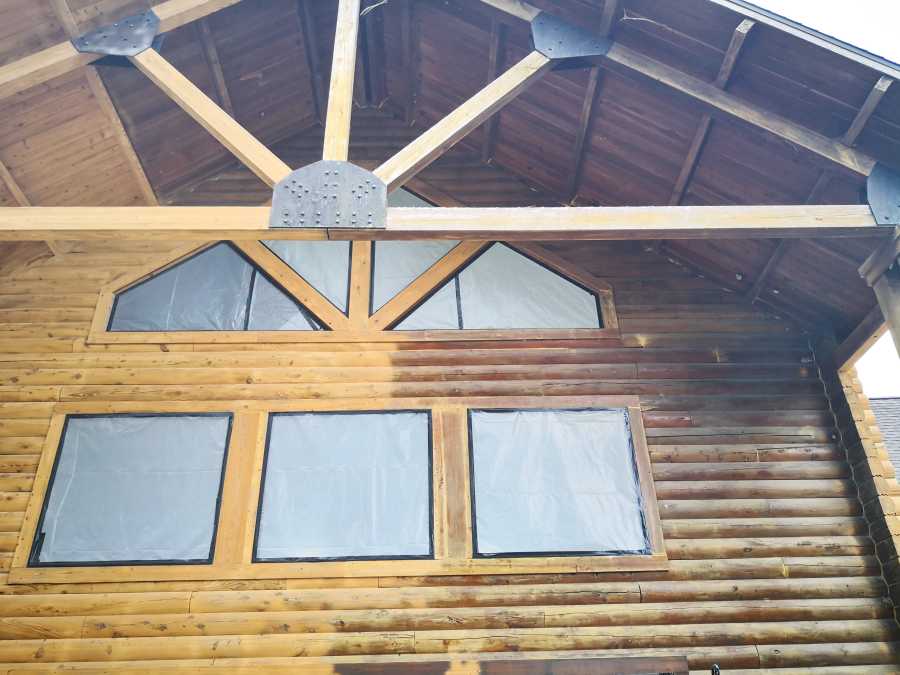 This is the underside of the roof eve looking up above the front porch.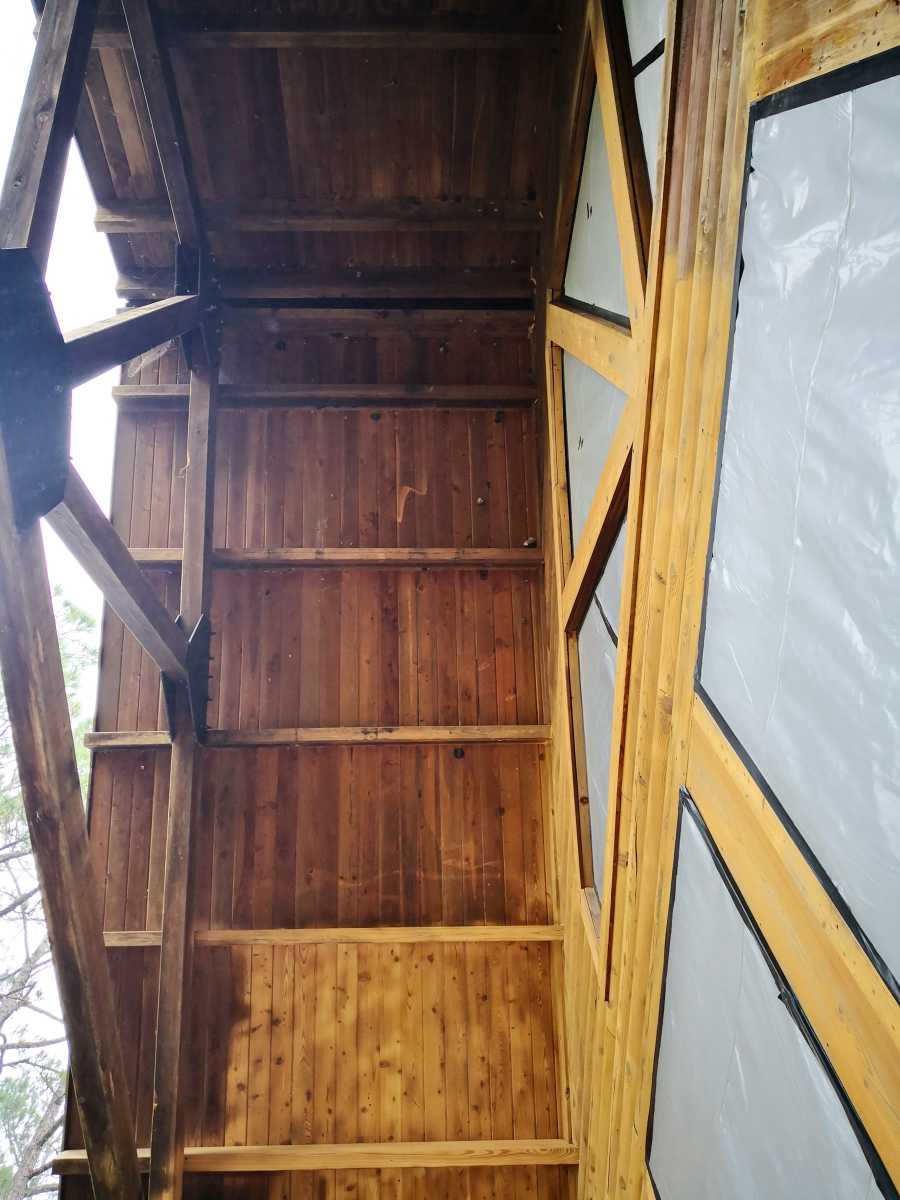 Sometimes we have to reload our sandblast pot with more sand and this makes for a great opportunity for me to sneak up and get some pictures without sand falling on my head and in my eyes.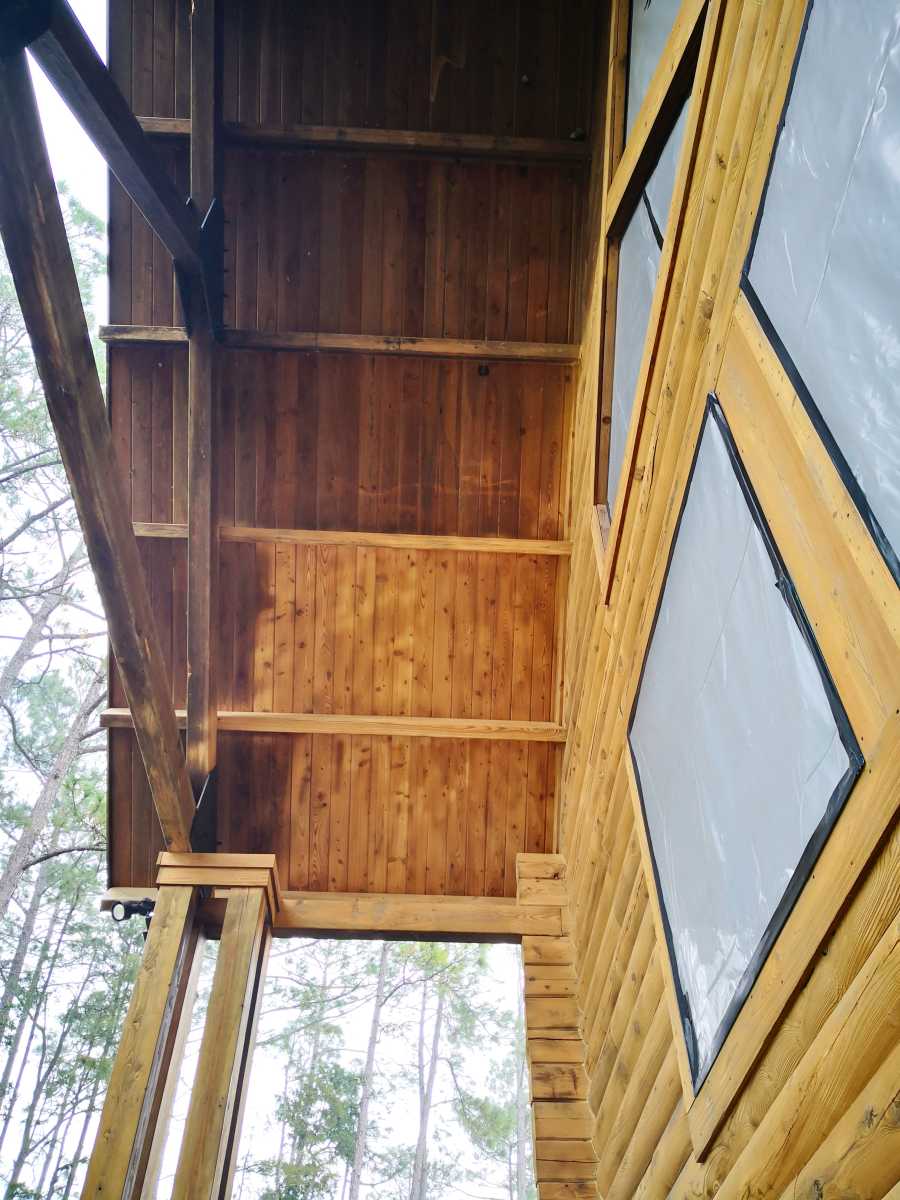 See that window above? Look below it on the right side. You can see a part of the log that was softer than the rest and it it did texture some. The soft spots blasted away faster than the rest and the grain was deepened. That is a spot that would require some hand sanding if you wanted all of it 100% smooth.
This is the front of that great and majestic porch which is under those giant roof eves.
Below you can see the guys replacing all the weather caulking between the logs for a new air proof seal. No log cabin restoration would be complete without it.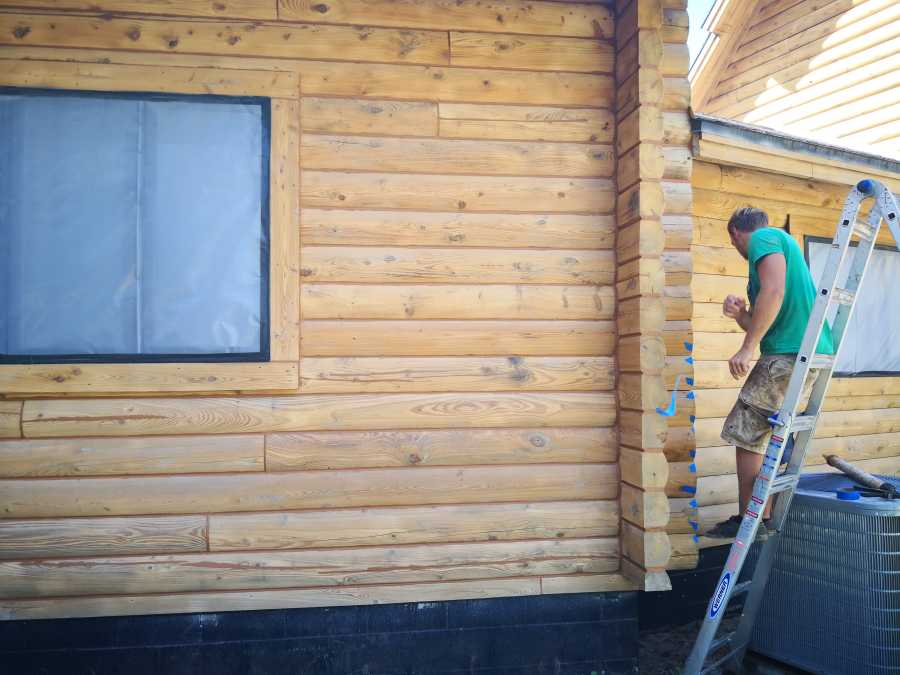 Below: You can see the discolored logs. They were rotten to the core and needed to be replaced with new solid logs. So the replacement was done after it was sandblasted. Then those new logs will be hand sanded to match the rest of the log cabin wall. Then sealed and stained same as the rest.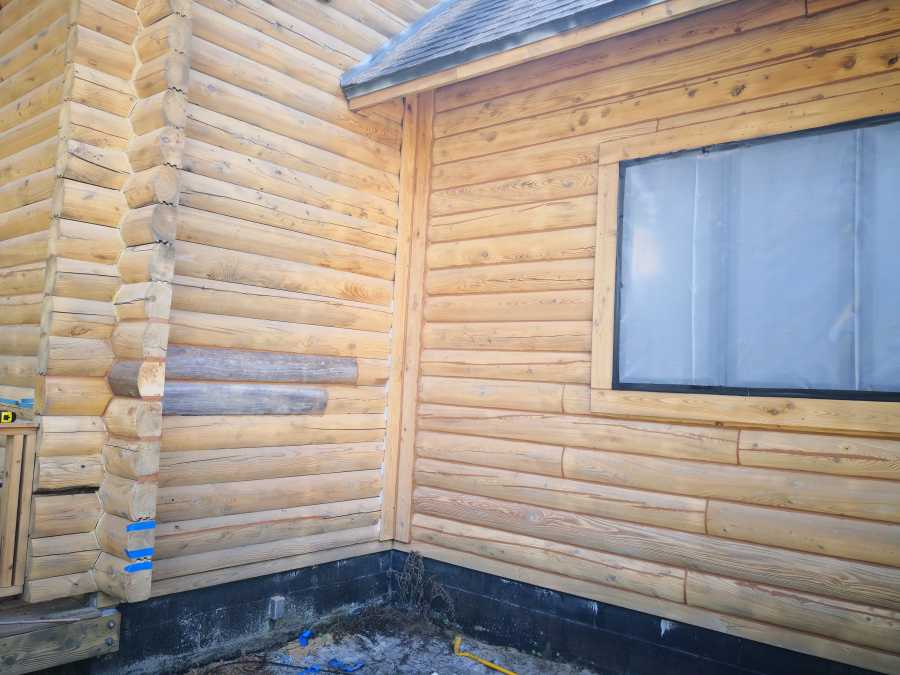 Caulking is a sloppy job. To prevent caulk from getting onto the lovely log surface, tape is used on every seam. We tape up the log above and the log below that joint, then caulk it. Then when we peel the tape off, you get a perfect caulk job and no over slop on the rest of the logs. This is very time consuming and tedious. But that's how you get perfect quality and avoid sloppy unsightly work. And this is not ordinary caulk. This stuff is designed for and only used on log cabin joints. Its that specialized because it does the job no other caulk can do.
It took longer to remove all the old caulk and replace it, than it did to sandblast the whole structure. But you cant have joints that let in bugs, wind and water. Its not allowable by our standards. But for some reason my competitors who bid lower price than me, seem to think its fine to leave the old caulk in place. Or they don't tape up the joints and you later end up with logs that have caulk slopped all over the place making it very unsightly. Hey, you get what you pay for. You know what your home is worth to you.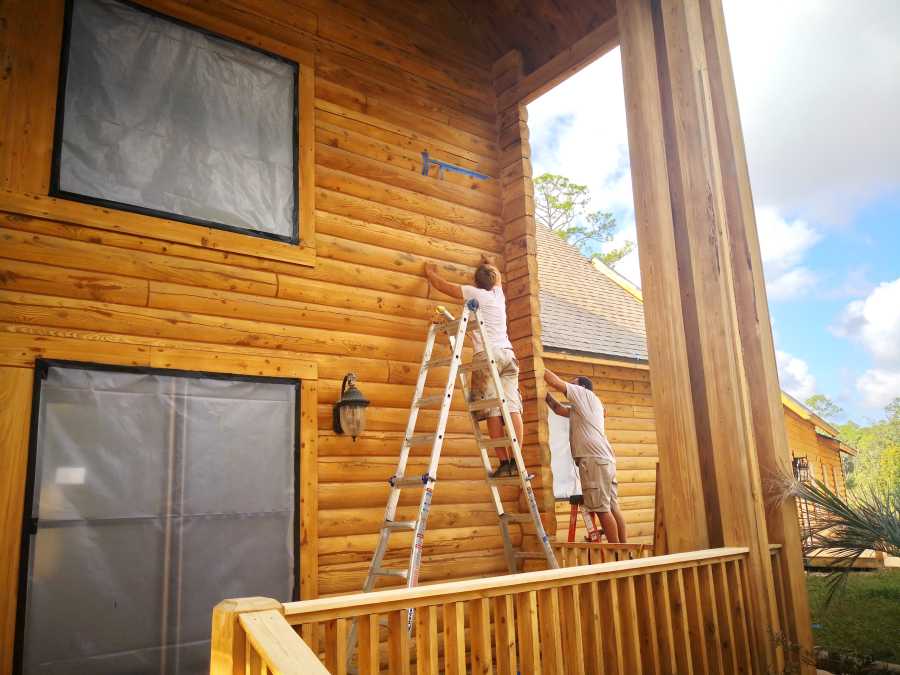 This isn't the whole wall being caulked. That's already been done. This is the touch up where we find the few places that aren't quite perfect and do it again. This is quality control day.
We don't believe in 90% good. I believe in doing it until its perfect. If you can afford me, you will get top quality. If you cant afford me, I wish you the best of luck on your outcome. There is plenty of low quality contractors that can meet your budget.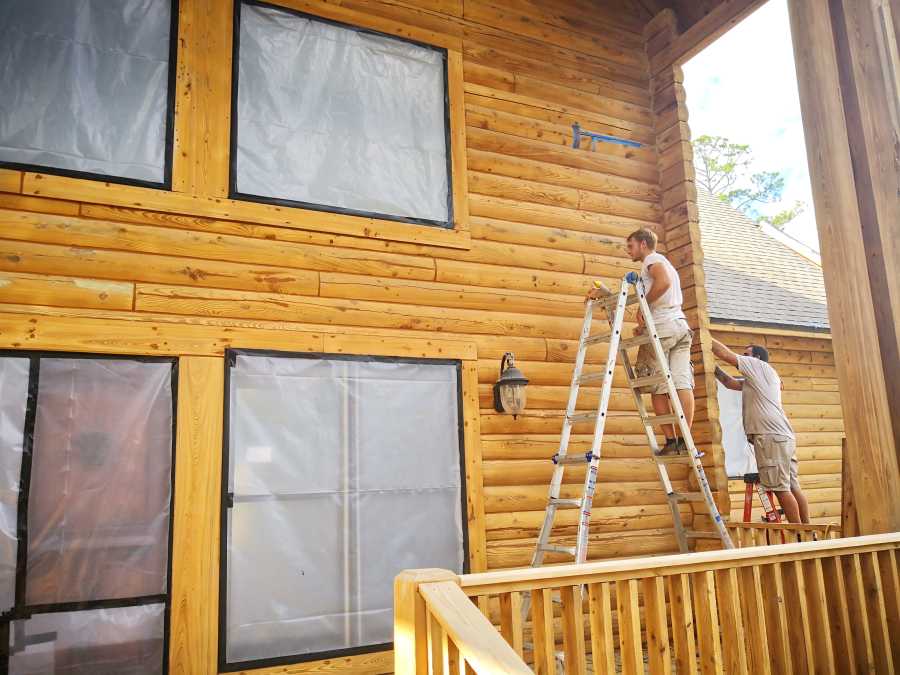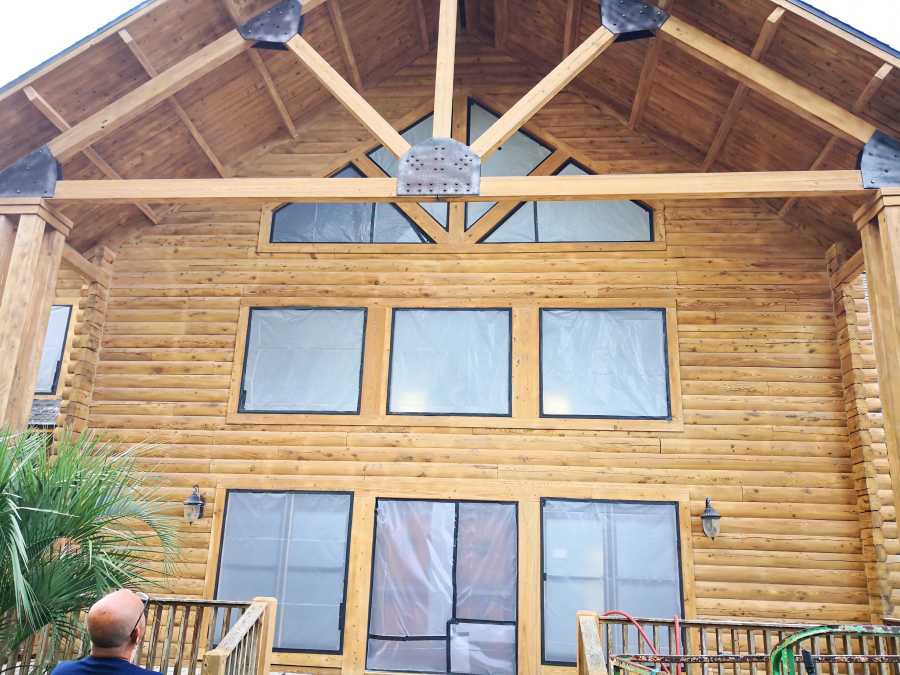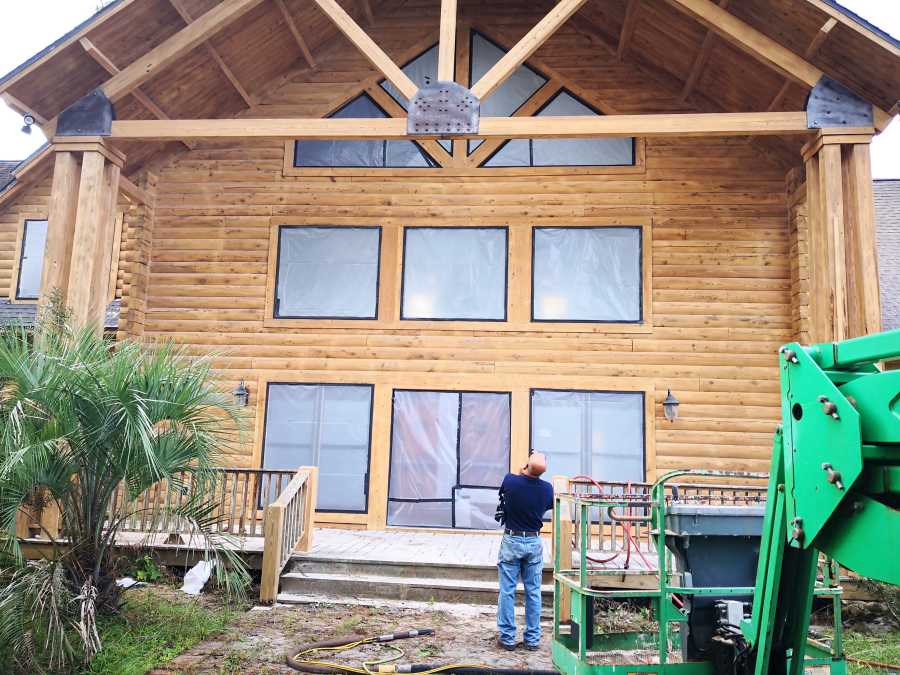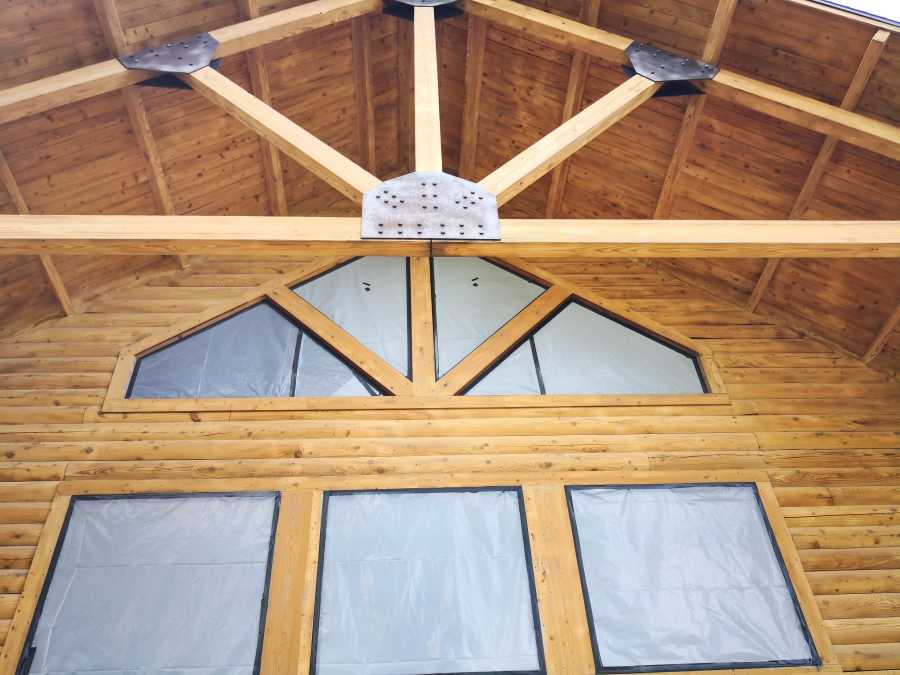 Beware: If we are going to drive a aerial lift and sandblasting rig all over your lawn, expect some tracks. They can be fixed later, but its usually not feasible to prevent them. Preventing them is much more expansive than repairing them.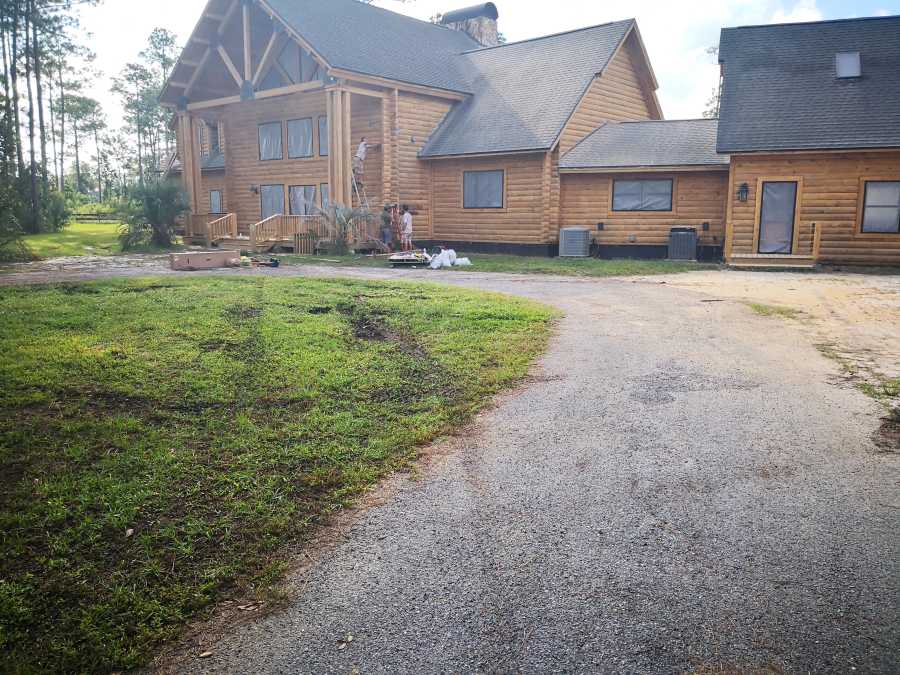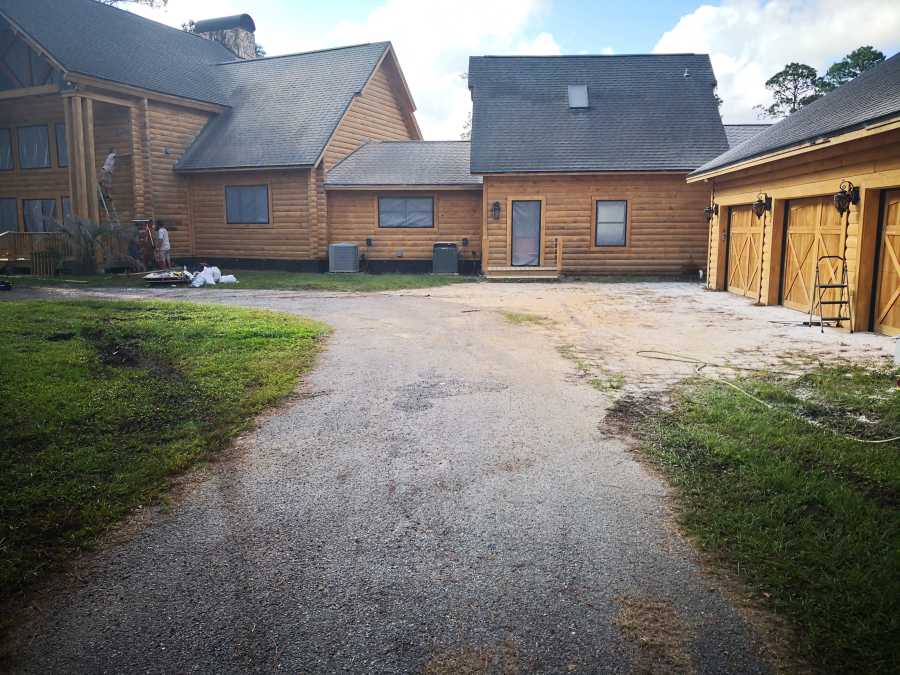 On the garage, the porch rails were too rotten and are being replaced. That's why you see a landing with no porch rails.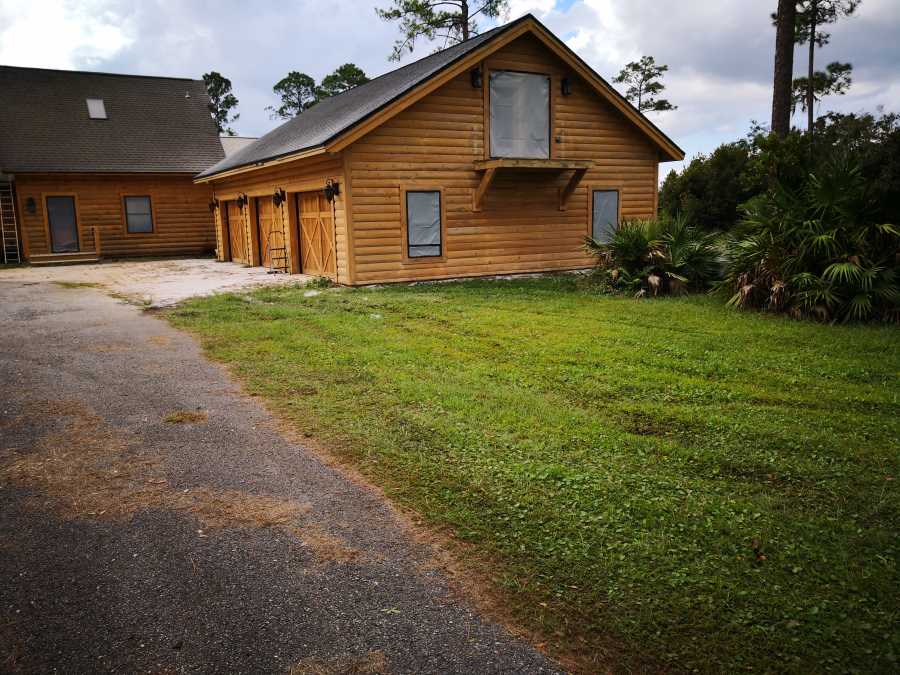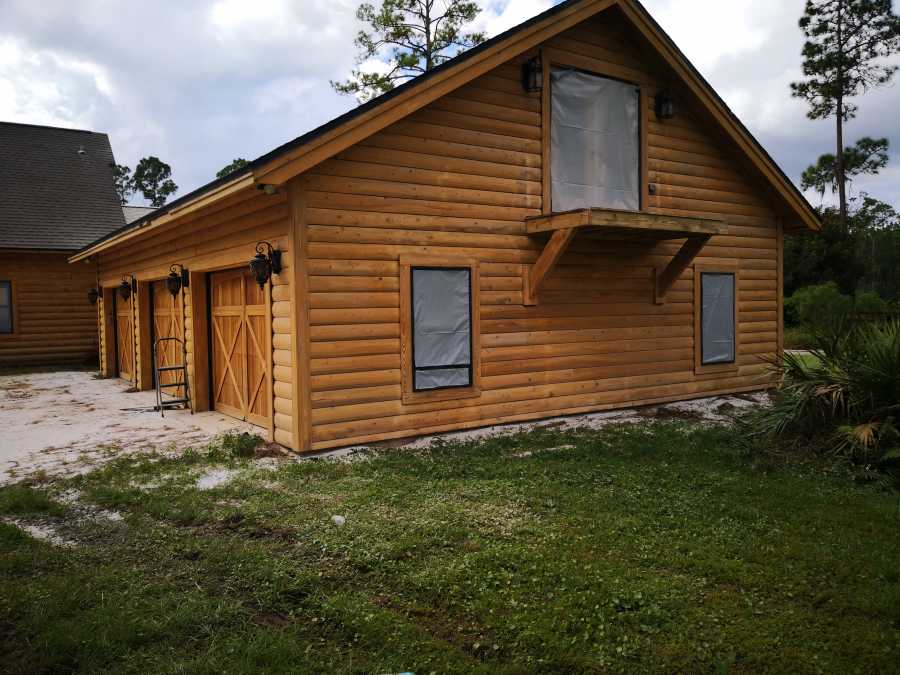 Upon completion the sand was blow off the driveway and into the grass where it permanently disappears. Clean up is easy although it does cost a little more.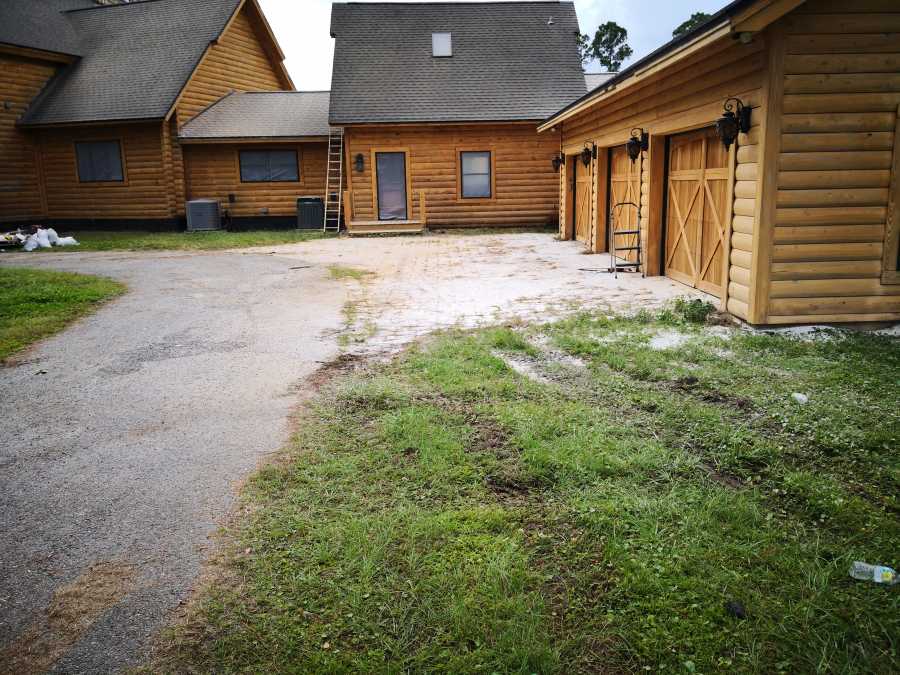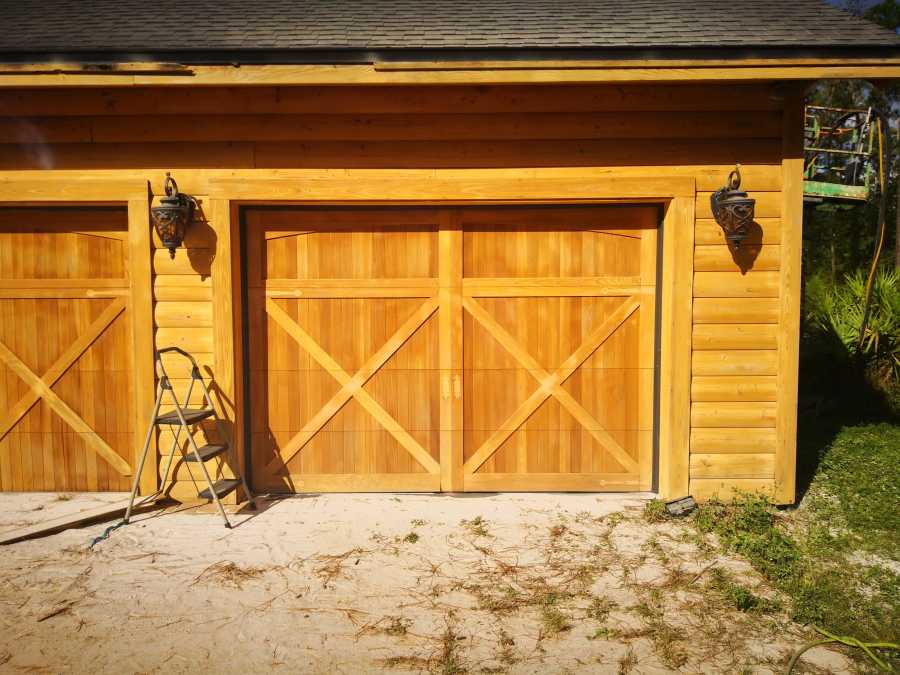 On a sunny day that log cabin wood looks brand new. I love log cabin restoration. Its so satisfying.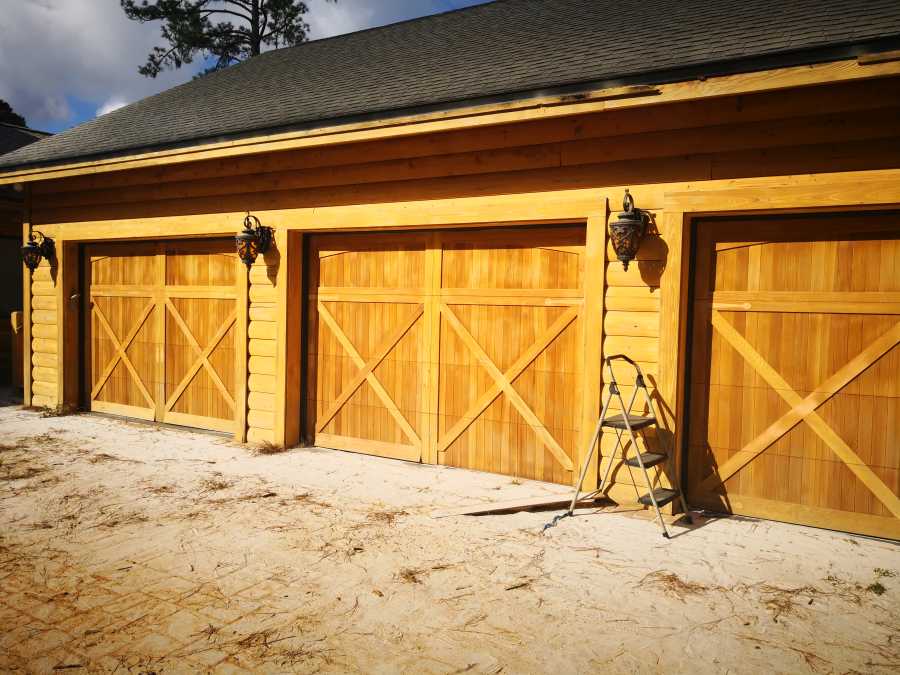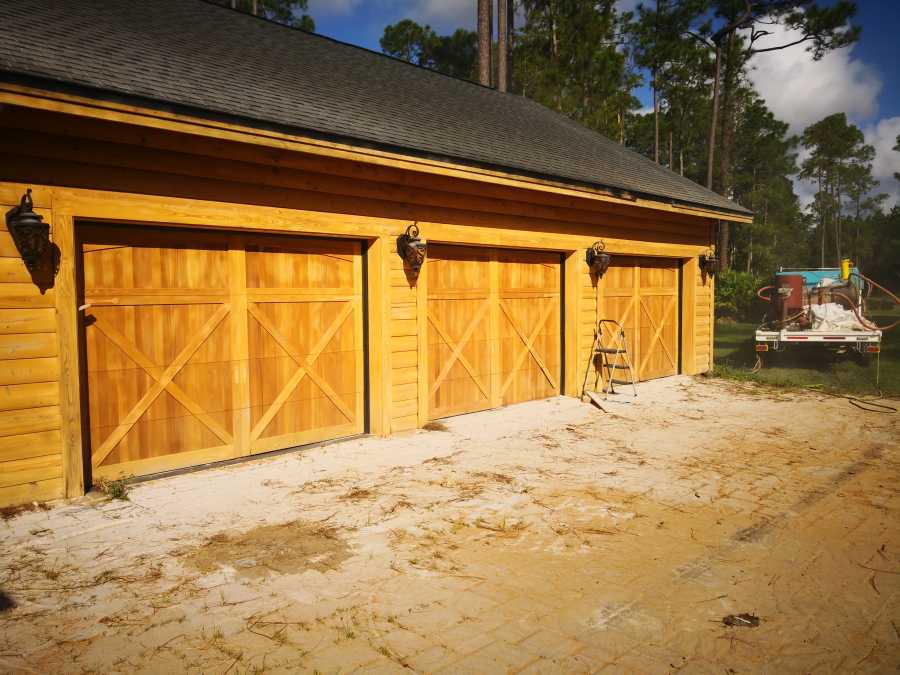 The sand on the roof will be washed off with a garden hose, and then washed out into the grass. Next they may have me sandblast the stone patio to look new also. Its being discussed. But that will have to be a return trip because I already have the next job scheduled and cant spend any more time here. So maybe on another webpage someday.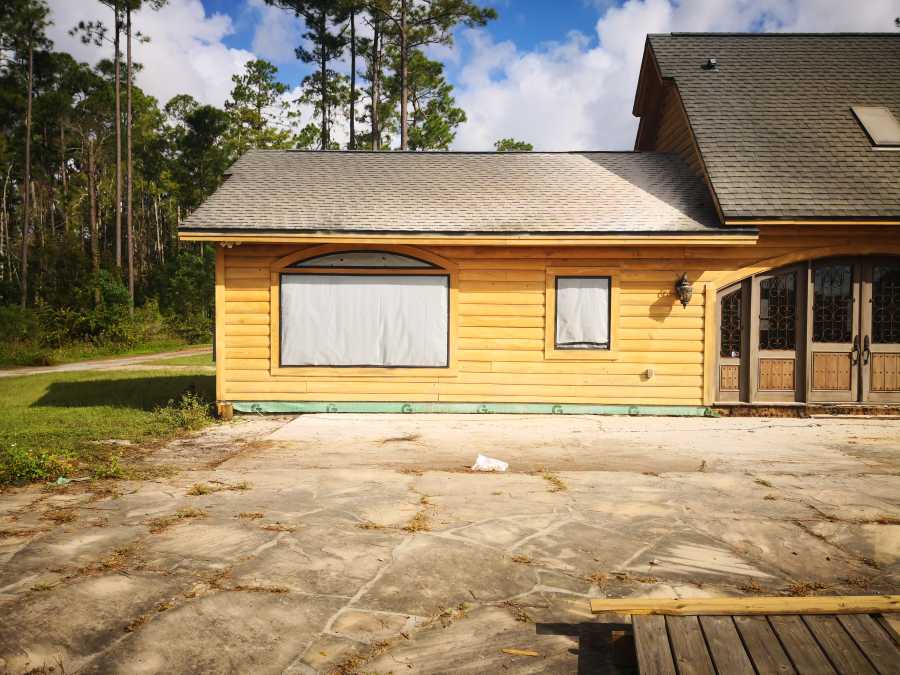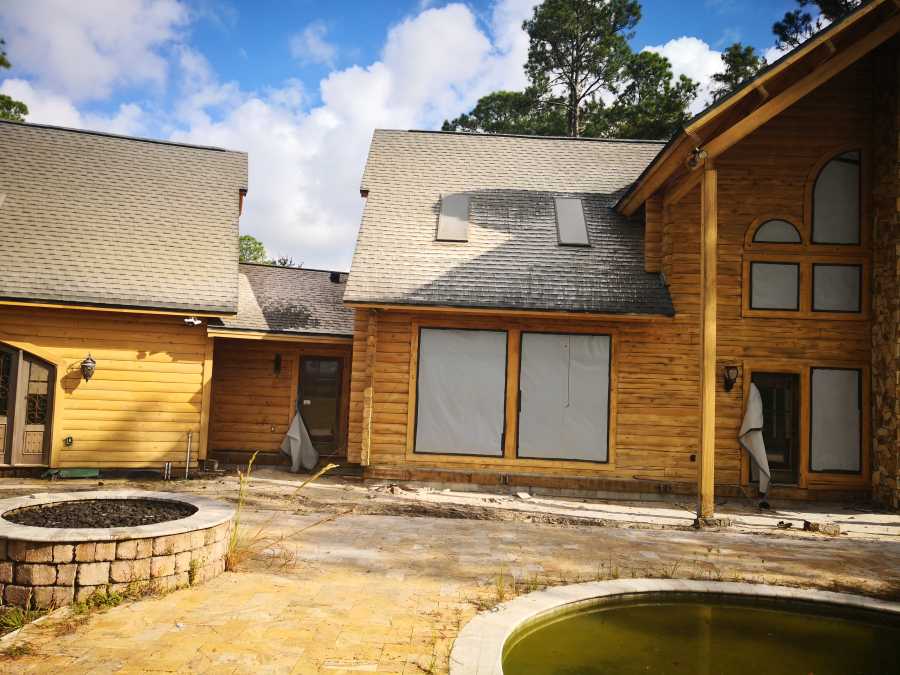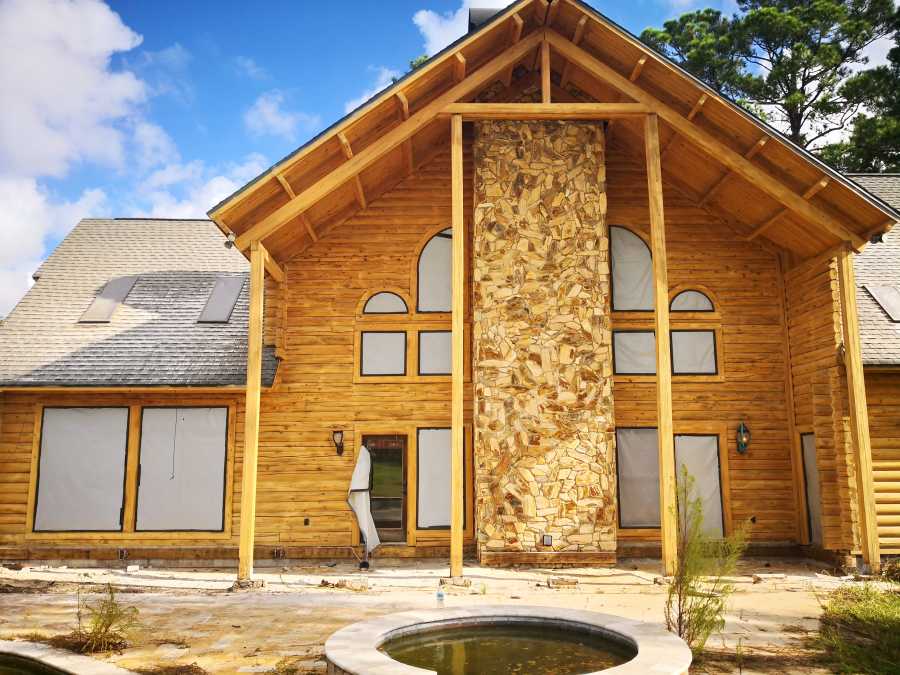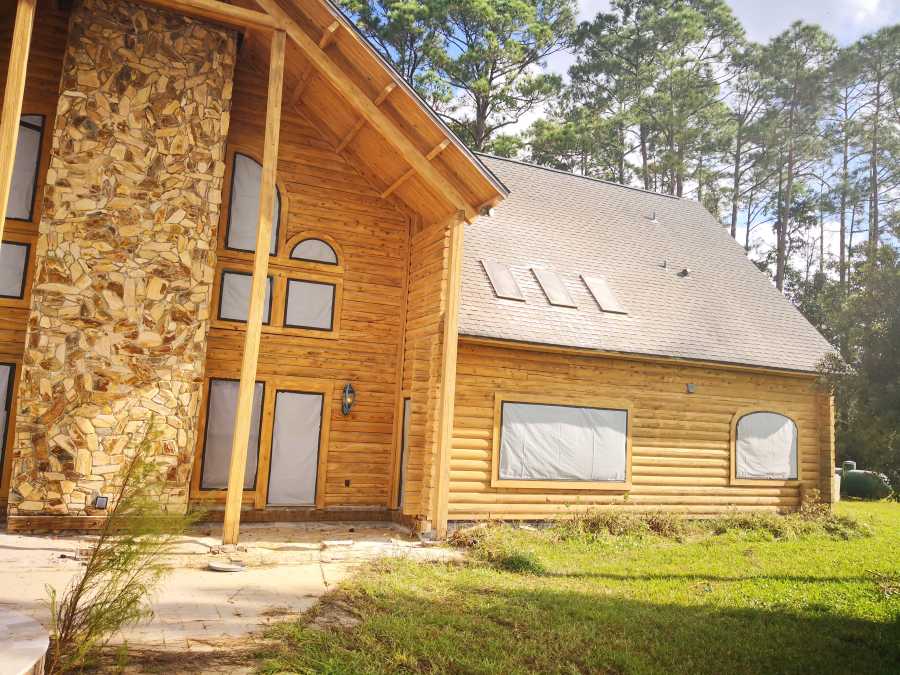 Hhhmmm. Do you see what I see? I didn't build it.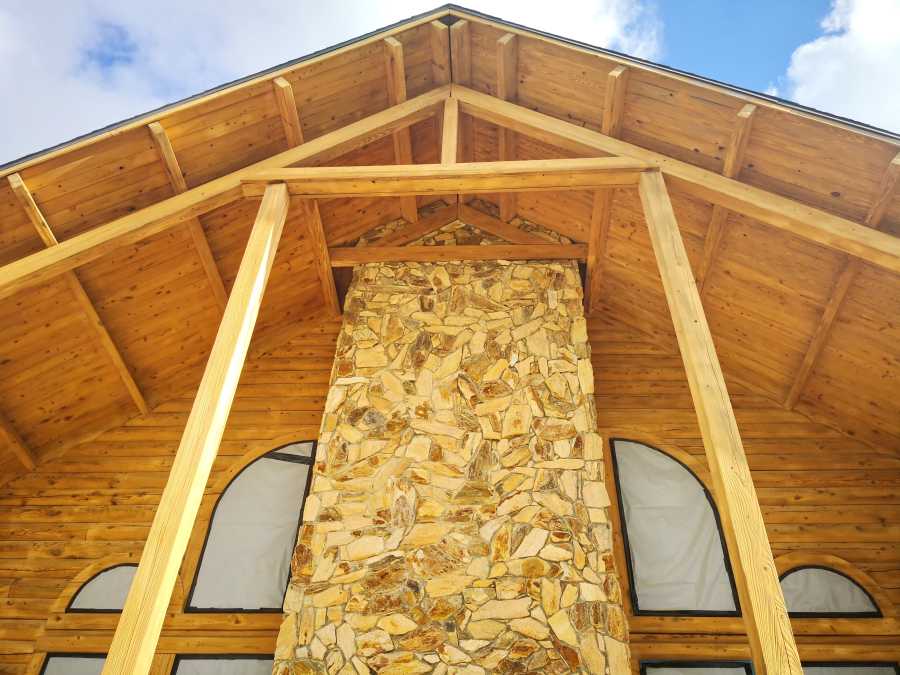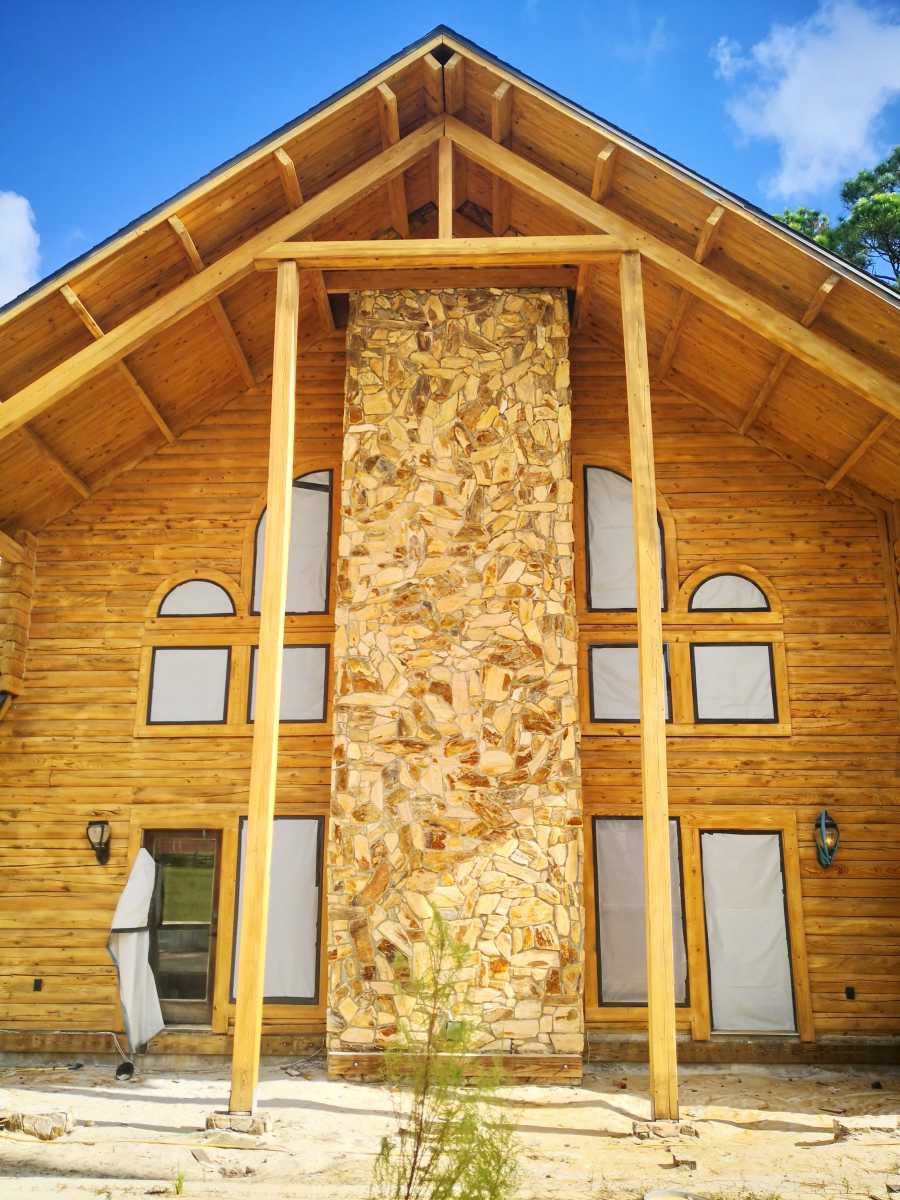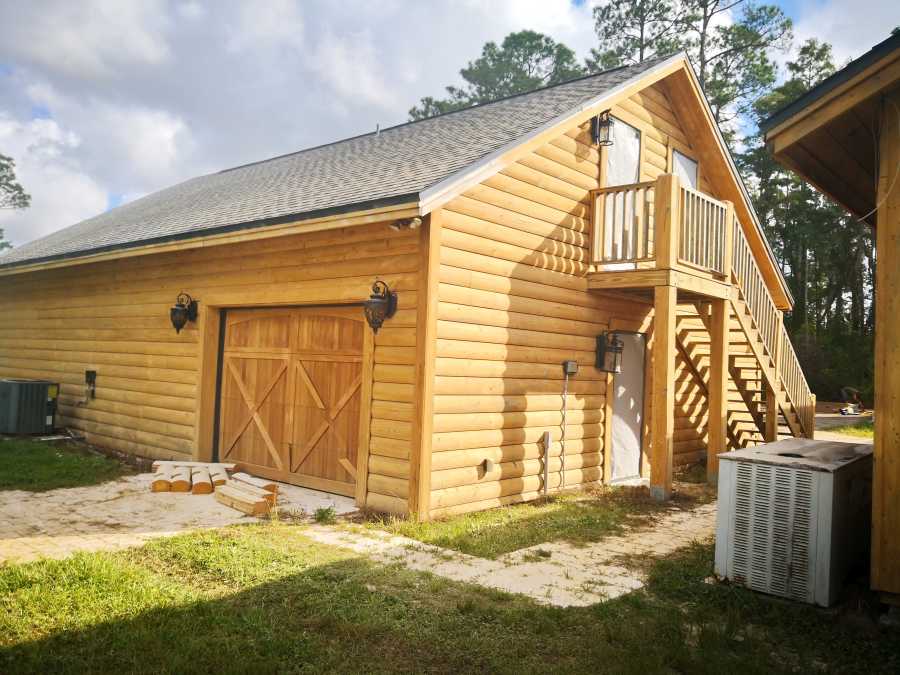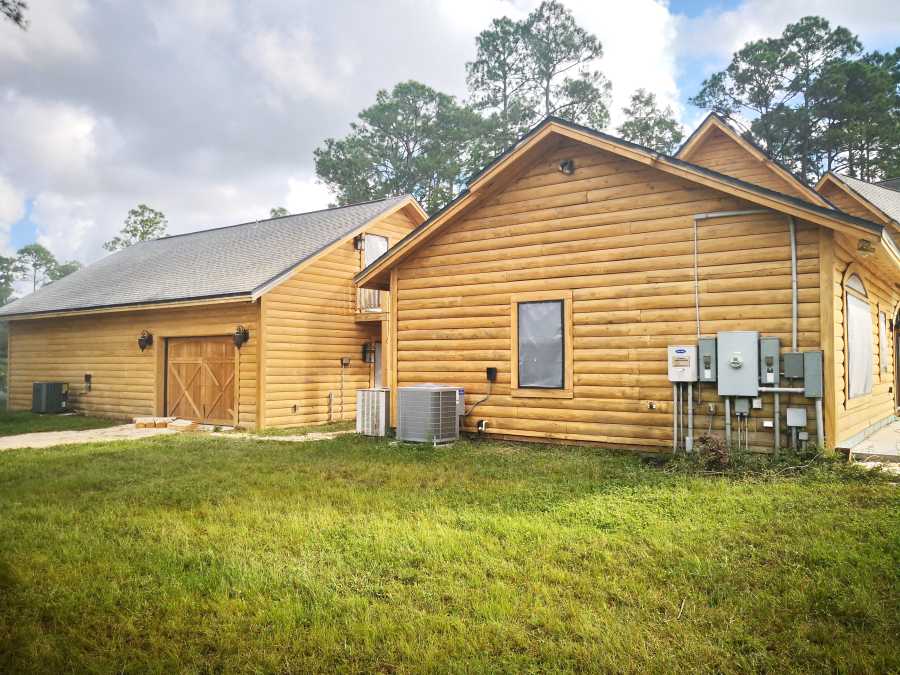 Below: The stair rails were not blasted because they are going to be replaced.